Young, new look GBS has mixed results early on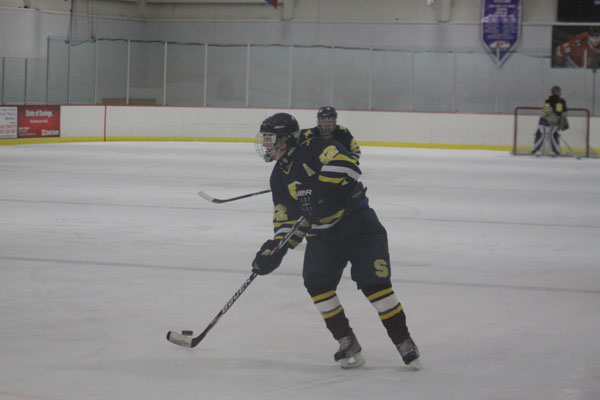 The GBS varsity hockey team has produced an inconsistent pattern of scores during the season; South's record so far includes seven wins, 13 losses and four ties, including a close loss against GBN which they dropped 2-3.

Losing to their biggest rival was "a heartbreak" according to senior captain Greg Abbott. But despite the disappointment, the team looks forward to playing North each year, and even though they lost, they still gained memorable experiences from it, according to senior defenseman Kevin Morrison.

"The whole [GBN] game is a memorable moment, I'm glad I've been able to play in it four times," Morrison said.

Though the GBN game was one of the most memorable, it hasn't been the only significant game to the team. On Nov. 30th, the Titans headed out to New York to play in a non-season  tournament against three formidable opponents: Serra Catholic, Upper St. Clair, and St. Edwards. GBS took the the first 5-0 but lost the last two 1-0 and 8-0.

"The games we played in New York [were] a great way to learn and come together as a team…we will take a lot away from them this year," Morrison said.

With each game that they play, the team has pinpointed a few things that they need to work on in order to improve. According to senior defenceman Mike Jobski, the team has had some problems with the penalties they have been drawing in games.

"In two games we average 12 penalties… it's bad," Jobski said.

The Titans also faced some more problems, specifically at the tournament in New York.

"I wish we could have played better," Morrison said. "We just weren't skating as hard as we could have been."

Morrison feels their lack of effort contributed to the final outcome, in addition to their inability to maneuver the puck in the second game, which eventually lead to their defeat.

One of the things that the team has going for them that promises to help them in later games is their bond as a team, according to Coach Jim Philbin.

"The team gets along down from the seniors to the sophomores," Philbin said. "They care about each other on and off the ice, and that's a key component to our success…later when we get into the playoffs it's going to help us a lot."

Another helpful aspect of the cohesion among the squad is that the team includes many younger players as well as older ones.

"We're a young team, so we are going to have a lot of potential as [we] continue to play high school hockey," Jobski said.

Senior captain Jack Washburn had doubts initially about how the team would play together as a whole, but felt differently once he got to know his younger team members.

"I was a little worried at first, but I think we are [getting along] pretty well." Washburn said.

According to Jobski, the team seems to have high hopes for the rest of the season, and will continue to keep working to make those improvements for future games.

The next games will be held on Jan. 9 away vs. New Trier, Jan. 13 against Rockford, and Jan. 20 against rivals Glenbrook North. Playoffs also start in Feb.