Hands of Peace builds interfaith relationships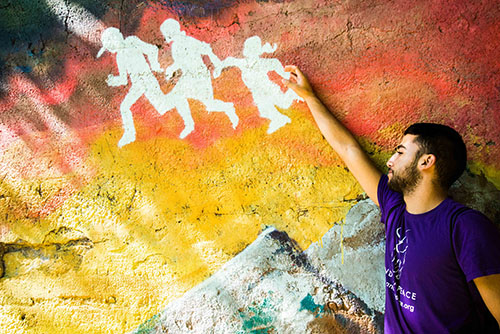 An act of Palestinian distress occurs in Israel. While Israelis believe it to be an act of terrorism, Palestinians view it as a protest. According to senior Ben Bernstein, this conversation, along with many others, helped bring people of different faiths together during a program known as Hands of Peace.
Hands of Peace is a 19-day program that took place this past summer at the Glenview Community Church. It's dedicated to getting Israeli, Palestinian and American teenagers together and discuss how to solve global problems through interactive dialogues, according to Bernstein. Julia Duerst, Chicago program director, explained that Hands of Peace tries to make participants realize that there is always another perspective.
"The way you grow up and your experience in life defines your perspective, your perception of reality and the narrative you attach to that," Duerst said. "We're trying to facilitate a space where people can negotiate and try to reconcile [by] transforming conflict from unjust situations into a society that can be found beyond [conflict]."
According to Bernstein, the Israeli-Palestinian conflict is the key focus point of Hands of Peace. He was able to learn a lot about this issue through the intimate conversations he had with those who lived on the site of the conflict.
"Coming from the U.S., you're going to really only hear about the Israeli perspective through the American narrative," Bernstein said. "Then you go and you meet people from all the parties involved and you hear a wide range of beliefs and opinions."
According to senior Ethan Sawyer, one of the most important moments from his experience was listening to the stories that the Israelis and Palestinians had to share in dialogues, or open disussions where participants can speak freely about any topic.
"There was one day in dialogue where everybody from Israel and Palestine told their story of a really impactful moment in their life," Sawyer said. "A lot of them are incredibly sad and it was really difficult for me to be in the room thinking about my life here in Glenview and how they live such vastly different lives than we do. That was the most impactful day [and] I took a lot from it."
For those who want to take on an enhanced leadership role in Hands of Peace, teens can apply to be in the Excel (XL) Program. Junior Sam Weinberg was an XL leader this summer, and had a much different experience compared to when he was just a participant.
"The dialogue sessions were deeper and more insightful because we were talking about more broad, abstract concepts," Weinberg said. "I learned more about the conflict [my] first time, but I learned more about myself the second time [as an XL leader]."
According to Weinberg, in a typical day of Hands of Peace, participants spend two-and-a-half hours in dialogue sessions, which consist of small groups of around 15 to 17 people. A team-building activity follows, which sometimes will include an outing. Weinberg said it was very beneficial for the Israeli and Palestinian teens when they took a trip to the Pilsen neighborhood in Chicago.
"Pilsen was very good for some of the Middle Easterners because they got to see that America is not just like the safe affluent haven that Glenview is," Weinberg said. "They [saw] that there [was] more to the Chicagoland area and U.S., and it [gave] them more of a nuanced view."
Besides participating in Hands of Peace, Sawyer also had the opportunity to host a boy from Israel participating in the program. According to Sawyer, hosting the boy was a unique experience, and gave him perspective of lifestyles outside of Glenview.
"It was really interesting and amazing to hear stories about his hometown and what he goes through on a daily basis, [as] it's just his [normal] life there," Sawyer said.
Although Hands of Peace offered great experiences, Sawyer says there were also many difficulties the participants faced. Bernstein says one of the hardest things he encountered was figuring out what the goal of the program was.
"[It was hard] having a mental switch between thinking that your goal is to solve the crisis, to just [making] sure everyone can understand where the other side is coming from," Bernstein said. "It takes a lot of thinking to really decide why you're [in Hands of Peace and] what your purpose [is] in doing the program."
Looking back, Duerst explained that she tries to give teens the experiences she had when she participated in Hands of Peace.
"I'm interested in pushing the American students that do Hands of Peace to go past the 'lovey-dovey coexistence, friendship can save the world' kind of [thought process] to the really deep and rich, complex and nuanced understanding of power and justice," Duerst said.
Duerst said that there is still more to learn about the Israeli-Palestinian conflict that Hands of Peace could cover in the future.
"[Through my work with Hands of Peace], I realized the limits of [this] experience," Duerst said. "By working in the field and being exposed to the greater, broader conversation that's continuously happening in the media [and] in activist circles around Israel and Palestine, [I discovered] there was so much more to understand about Israel and Palestine than I knew."