Glenbrooks perform energetic, comedic musical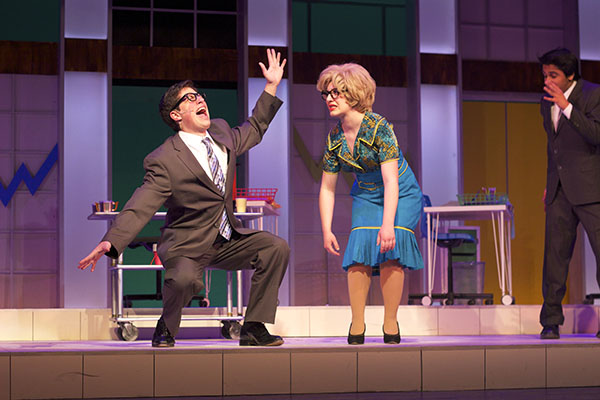 After countless hours of toes tapping, mouths singing and hands scribbling on scripts, the 2015 Glenbrook Musical, How to Succeed in Business Without Really Trying, drew in audiences from April 29-May 2. The double cast made viewers laugh as their parody of a '60s corporate business displayed this year's collaboration between North and South.
The entire production started off like any other Glenbrook Musical: with auditions. According to sophomore Aidan Demsky, he was both nervous and excited when it came to audition time.
"They usually give you little sections of music to sing to prepare for and then you also do cold reads of monologues," Demsky said. "Then there's the dance on the stage, which is the scariest part."
While auditioning was under way, South's stage crew, lead by Stage Manager Emily Horvath, began constructing the set. Horvath and the building/paint crew prepared a '60s-themed set under the direction of Rich Winship, set designer and technical director. According to Horvath, it was important to maintain the themes of the musical in the set construction.
"It was like a funny version of Mad Men a little bit," Horvath said. "It had that sort of color and feel as far as costuming, and the color palette we chose [was] from the '60s."
Also in the works was a 61-piece live orchestra to perform each piece of music for the production under the leadership of  orchestra director Aaron Kaplan. Sophomore Jean-Paul Rodriguez played trumpet in the pit, performing a myriad of songs with musicians from both North and South. Rodriguez said preparation was important and taken very seriously, including hours of rehearsing at school and at home.
"[You need to] get in the mindset before the musical, not just playing the notes," Rodriguez said. "You have to be prepared. No slacking off because [when you miss an] entry, you mess up a song."
Much of the singing in the production was under the instruction of Marty Sirvatka, South's choir teacher. He was in charge of teaching the vocal pieces to the singers, as well as making sure they all sounded outstanding together. According to Director John Knight, Sirvatka has worked with the musical for over 20 years, but this was Sirvatka's last year.
"[Sirvatka] has a vast amount of experience and knowledge and really was crucial in making sure everybody was confident in their singing." Knight said. "This is also his last year doing the musical, so there's going to be big shoes to fill."
With students working together, there was also an emotional level of growth that came from their interaction with the show. According to junior Chuck Quinn IV, who starred as J. Pierrepont Finch in one of the two casts, he eventually grew very close with many fellow cast members, including those from North.
"When we really start to get close is the week before the show because that's when we're all here until 9 or 10 at night," Quinn said. "During weekends, we were here from 10 [a.m] to 10 [p.m.] [to] really just work [on] the show, and that's when we all really come close because we're all together for so long."
Their weeks of preparation were displayed on April 29, when the curtain was raised at 7:30 for the first public showing. Quinn points out that this year's production gave all that were involved one week less to prepare, making them work harder and faster than usual.
"The nice thing is that because of the lights [on stage], you can't see anyone, so you don't have to think about that," Quinn said. "But it's very surreal talking to people afterwards and realizing that people were watching [what] you do [in the] show."
While actors like Quinn and Demsky sang and danced on stage, technicians worked the lights, and the crew moved props. According to Horvath, much of the work on the day of performances is just a repeat of what had been done in practices. However, she emphasized that teamwork plays a major role in the success of the musical.
"A lot of it is just preparation and communication," Horvath said. "Those are the two most important things. You can't have one group not doing their job because everything depends on everyone being ready at all times."
From overseeing everything from the stage crew, to the cast, to the orchestra, Knight encountered several challenges, including working with students from both schools, but he was able to create a cohesive group.
"Coordinating all of those 150 students' schedules to all be on the same page and do the same thing at the same time and communicate to everybody is probably the hardest part," Knight said.
Another key part of the production was choreographer, Bonnie Laskie. While some students have no experience with dancing and other students have been taking dance classes for years, Laskie has to accommodate to each of the 80 students' skillsets, according to Knight. She has also worked with the musical for over 20 years, and How to Succeed in Business Without Really Trying was her last Glenbrook musical.
As Knight sat and watched the finished product on opening night, he said he couldn't help but think back to the first rehearsals when students didn't know a word of dialogue, music or choreography.
"That's one thing the audience will never know," Knight said. "They only see the finished product. They don't know how far of a journey we've all taken."