Elizabeth Chong paints passion for art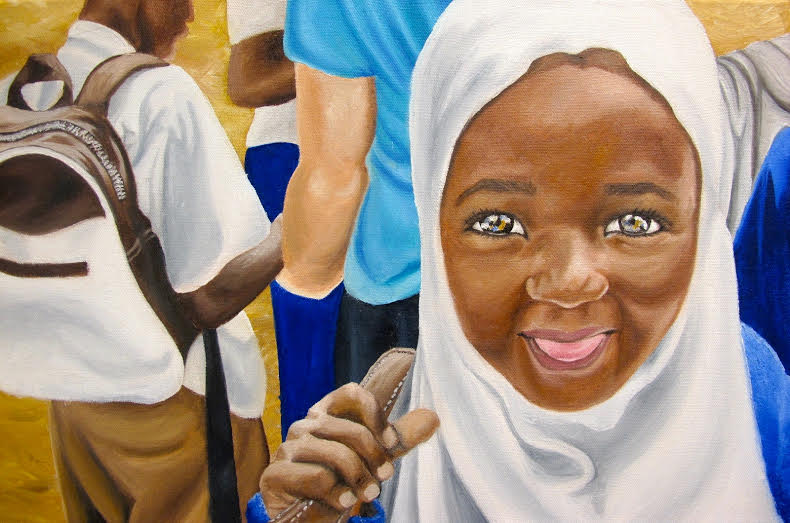 Aakash Bhojwani and Alex Ladan, staff reporters
May 15, 2015
During her time at South, senior Elizabeth Chong said she pursued her passion for art and has used her life experiences to inspire her work. Despite her busy academic schedule and athletics, Chong has found time to fit in various art classes and make art that catches people's eyes.
The first art classes that Chong took at South were Ceramics, and Drawing I as a freshman. According to Kurt Webb, Chong's Ceramics teacher, he noticed her good work ethic right from the start.
"She was very conscientious," Webb said. "She worked very hard and really spent a lot of time working on details. [She was] very committed to making extraordinary work."
After taking Ceramics and Drawing I, Chong took a break and did not take any art classes during her sophomore year. Art teacher Natalie Ingaunis taught Chong Drawing I and had previously attempted to convinceChong to take more art classes.
"She was one of those that took Drawing I as a freshman," Ingaunis said. "I didn't see her sophomore year and every time I would see her in the hall, [I would say], 'When are you getting back in the class? You need to come back to class,'" Ingaunis said.
During her junior year, Chong took four art classes, including Photography. Photography teacher Amie Elliott felt that, although taking many art classes may have been a challenge for Chong, it ultimately has benefited her.
"I don't think she could be the artist that she is now without taking most or all of those classes," Elliott said. "I think she struggled a little bit taking all of those classes because there is a steep learning curve in a beginning class. If you are doing a bunch of beginning classes, that's a lot of feeling uncertain of your skills in a lot of places. I think it's hard as an artist to not have pretty reliable instant success."
Last year, Ingaunis encouraged Chong to submit one of her art pieces to a high school invitational at Northern Illinois University.
"[Ms. Ingaunis] wanted me to submit […] a white charcoal piece of a skull with a hand on top," Chong said. "It was cool because you got to see some of the best kids from different high schools come to Northern Illinois to go showcase their work."
Ingaunis wanted Chong to submit her piece because she feels that it was important that she showcased her art for others to see.
"Sometimes we make art for ourselves, but for the most part we are making art for another audience," Ingaunis said. "[Art is] a way that we can express ourselves visually. We learn in school how to speak in speech classes [and] we learn how to write in our English classes. This is another form of communication; she is really good at it, so she needs to show people that."
According to Ingaunis, Chong's artwork impressed many people at the show and received positive comments from viewers.
"As people would walk by they're like 'Oh my God. Look at that. That is amazing. A highschool kid did that?'" Ingaunis said. "They really were shocked by [Chong's artwork]."
The summer after her junior year, Chong became involved with Global Leadership Adventures, an organization that provides high school students volunteer opportunities. According to Chong, she and her friend, Sara Kuramitsu, wanted to experience something new and unfamiliar and decided to take a trip to Tanzania. This experience influenced her to find the theme of all her paintings for this year in AP art.
"This year, it's about things that I left behind in my childhood," Chong said.  "Each painting represents a different word that shows what I lost. For example, the one that is my favorite is about hope. I would look through different photographs that I took over the summer in Tanzania and thought about which ones would best represent that word."
This year in AP Art, Chong has used oil paint for all of her pieces. According to Art teacher Stephanie Fuja, her paintings are meaningful because they related to Chong's life.
"I love how Elizabeth tells a story with each piece she paints," Fuja said. "She experienced time in Africa with the children she paints, so she has such an amazing personal connection to her work."
Senior Reshma Rajan, Chong's classmate in AP Art said one piece that Elizabeth painted especially caught Rajan's eye.
"There is this one piece that she did of this little kid [she met] from when she went to Africa […] and she did such an amazing job," Rajan said. "The eyes were captivating. They were amazing."
According to Chong's peers and teachers, Chong pays very strong attention to detail in every aspect of her artwork.
"She is a perfectionist, so she cares about every little detail and she just obsesses over the tiniest little things," Rajan said. "She is just like, 'I don't know how to figure this out, this tiny little corner', and I'm just like, 'It's just a corner. It's okay.'"
Like Rajan, Webb also agrees that Chong focuses too much on details at times, and that can be both a strength and a weakness.
"It's very hard for me to find any weaknesses in her work," Webb said. "I would say those strengths, all that time and commitment, could also be a weakness in that things could be a bit overworked."
Although Chong is not planning on pursuing art as a career, she hopes that she can continue to follow this passion in her future.
"I'm just hoping that I won't lose what I gained here," Chong said. ¨Throughout my high school career, I've spent so much time taking art. Last year, I took four art classes, so I don't want to forget all the things that I've learned here and want to continue using everything I've learned later on."
According to Elliott, Chong's hard work and pursuit of excellence can influence others, and she believes that Chong can be a role model to other students.
"[Elizabeth] has good talent, good skills, but she is working," Elliot said. "[People like Elizabeth] make it more possible for people to say, 'If I worked, I could do that too.' I think that is a great, great thing."