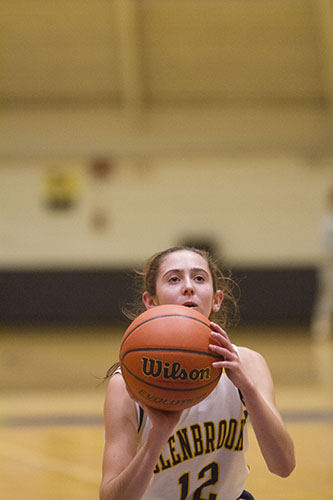 After going 13-15 last season, including an 0-5 showing in their Thanksgiving tournament, South's Women's Varsity basketball team has shown much more determination for success this year, according to Coach Steve Weissenstein. 
The team is currently 9-0, including a victorious run at the Mundelein Thanksgiving Tournament. The team picked up wins against Highland Park, Glenbrook North and Maine South, all of which were won by 10 or more points, according to Weissenstein.
Beginning the season with new players and starters, the chemistry was not the best, according to sophomore Carrie Weinman, starting point guard. But with a few games played together they have grown to be able to communicate much better, according to senior captain Ashley Oldshue.
"I think our biggest success has been working as a team, and I think last year everyone was kind of nervous, being new to varsity and not knowing each other that well," Oldshue said.
Another factor that has led to the team's success has been the help from their assistant coach, Scott Nemecek, who has brought  in new plays and ideas to the court, according to junior Sarah McDonagh.
"I think Nemecek has been a great addition to our team," McDonagh said. "A lot of his plays that he's brought to the court have definitely helped us during games."
Although Weissenstein believes the team has gotten off to a great start this season, he believes much work is still needed.
"We can cut down on our turnovers; I think we had 16 turnovers against Maine South," Weissenstein said. "There are some times defensively we don't communicate enough. We kind of predicate our defense on switching a lot of screens. Sometimes we don't talk, and someone is open because we didn't switch the screen properly. So we can clean up some of those mistakes, which I think will make us better."
Weissenstein believes that wins and losses take care of themselves, as long as the team concentrates on what they're doing. For all the games so far, every player has been able concentrate and play to contribute to the undefeated record.
In the second game of the season, against rival Glenbrook North, every player was able to score in the 81-33 victory, according to Weissenstein. Playing against a rival school, McDonagh believes that it was an important turning point in the season.
"I think although the GBN game was, [not only] points, a big difference, I think it definitely boosted our confidence and, as a team, made us a lot better," McDonagh said.
Alongside their GBN victory, the Titans defeated Evanston on Dec. 12, with a score of 56-45.
"It wasn't our best game, but we still pulled it out," senior Catie Weinman said. "The other team was very physical, but we kept our cool."
Improving as the season goes on, a lot of the players have been able to contribute immensely on and off the bench, according to Weissenstein.
"[Senior guard] Madison Kane has done a great job coming off the bench, [senior forward] Caroline Caspers comes off the bench, she was our leading scorer against Glenbrook North," Weissenstein said. "[Freshman guard] Lizzy Shaw has done a great job coming off the bench."
A lot of expectations have been fulfilled, according to Weissenstein, but he still has hopes for the girls in the upcoming games and knows that they're working their hardest.
McDonagh believes that the team's next games are crucial to their future success.
"Improving as a team [is important] and also we really want to beat […] our rivals like New Trier," McDonagh said.
On Dec. 16, the Titans defeated the Deerfield Warriors 70-31.
The team will participate in the Wheaton North Holiday Tournament on Dec. 22, 23, 26, and 27.
This story went to press before the game versus Waukegan last night.