McCarthy commits to Villanova, leaves legacy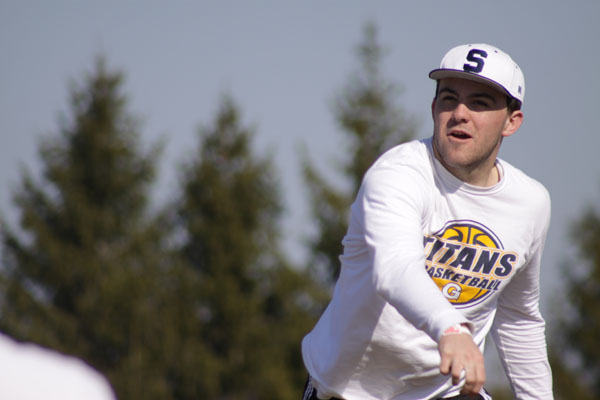 Manny Martinez & Lily Sands, staff writers
April 22, 2014
With a blazing fastball on the baseball mound and quick feet underneath the basket, senior baseball pitcher and basketball center Conor McCarthy plays the game, whether it's baseball or basketball, with high intensity. While he has been a two-sport varsity athlete during his tenure here at South, McCarthy has decided to pursue Division I collegiate baseball at Villanova University, leaving his basketball career behind.  
McCarthy, who is a pitcher or first baseman, began his last season as a Titan with their first game back on April 1 against Stevenson. After losing his first outing, McCarthy made a few adjustments to his game for his subsequent start against Stevenson, according to head coach Steve Stanicek.
"He did not have a good outing his first [time out on the mound], and the way he bounced back from that was […] impressive," Stanicek said. "[I think the reason he was able to bounce back] was [because] he didn't completely […] get down on himself because he didn't pitch well his first outing. He turned [it] over in one game, [and] usually it takes a couple of games to phase that out."
McCarthy, in his start against Stevenson, punched out nine batters and allowed two men to reach base via base on balls, all while throwing a no-hitter as South defeated Stevenson 10-0. He didn't think much of the feat on the mound early on and was instead focused on executing his pitches, but, as the game progressed, the no-hitter became a more prevalent thought in his head.
"It was in the third or fourth inning that I actually looked up and saw that I hadn't allowed a hit, yet," McCarthy said. "I was throwing pretty well, so [it was then that] it kind of started crossing my mind, whereas, in the beginning [of the game], I didn't notice it at all."
According to McCarthy, the fact that he had just thrown a no-hitter never really hit him until the end of the game when Stanicek congratulated him about it.
McCarthy, in order to throw the no-hitter, had to transition quickly from basketball to baseball after a playoff run with the basketball team, and he points out the fact that there are a few upsides to the quick turnaround.
"[The transition is] definitely very quick," McCarthy said. "Right after we lost in the playoffs against New Trier, I had a 7 a.m. [baseball] practice, [and] there was no gap whatsoever. It was just moving on to the next sport, which is actually pretty good because it keeps [my] mind off of losing."
McCarthy thinks that one of the better things about being a pitcher is the sheer amount of responsibility, and sometimes the pressure, that comes with the job, since all eyes are on him.
"[That's] one of the biggest things that I love about pitching," McCarthy said. "It's basically all on you to perform well. Baseball is a team sport, but it's also highly individual. I kind [of] like having the control of the game mostly on my shoulders at that time."
According to Stanicek, who's in his first year as manager, it's advantageous to have a pitcher like McCarthy on the squad, especially one who has leadership quality.
"It's always nice to have a number one pitcher on the team because everybody can […] follow suit, and all of the pitching will […] work around [McCarthy]," Stanicek said. "[Right now, though, McCarthy] is part of a senior group that's really been working hard for this spring, and I think, collectively, they're all going to do a really nice job."
While his focus is currently on this season, McCarthy can look further ahead and into the future as he will not have to worry about choosing a school, since he's already committed to Villanova.
"[Villanova was] the best academic school that I had to choose from," McCarthy said. "Also, with the baseball program, I met all of the coaches and they all made me feel at home. It was nice knowing that I would be going there with them if I played there."
McCarthy thinks it was his drive and determination, along with his competitive edge as a player, that made him stand out to the scouts at Villanova.
"[The scouts] saw me at a couple tournaments, and I think they saw what a competitor I am," McCarthy said. "It's all about winning and the drive to win."
Sports have always been a key part of McCarthy's life as he's been playing baseball, basketball, and football since an early age, but he says it was baseball that took the top spot and the majority of the focus at age 10 because he accomplished one of his goals in making the travel team he tried out for.
"I got cut from the first baseball travel team I had ever tried out for when I was 9 [years old]," McCarthy said. "So my best memory was making the travel team I tried out for when I was a 10 years old, which shifted me more towards baseball."
Even though his focus has been primarily on baseball throughout his time here at South, McCarthy still had to handle playing basketball as well, and he credits a few of his friends with making the experience more meaningful and extra special.
"I was able to play with two of my best friends, [seniors] Sam Decosmo and Peter Heles, and [it] was definitely an awesome experience to share our last basketball season together," McCarthy said. "[In] baseball, I've been playing with guys like [seniors] Tommy O'Hara and Paul Jones since I was ten years old, and it's nice to have our last season together, [especially since] we share that [same] goal of having a really good playoff run."
According to Ben Widner, head basketball coach, McCarthy motivates all others with his dedication but still is able to insert a little bit of humor at the right time, and he makes certain situations a little more fun and relaxed in tone.
"He's the type of kid that is very serious about sports," Widner said. "He also has a sense of humor about it, which is good. He has a good balance. He understands the line: when it's time to be serious, and when [he can be humorous]."
As a friend and teammate of McCarthy's, DeCosmo knows how dedicated McCarthy is when it comes to sports, so he's not surprised McCarthy's going to the next level.
"He's always put his heart into it," DeCosmo said. "He's always worked hard in the weight room, on the field and on the court to make sure he is the best that he can be, and now he's going on to play college baseball."