Three-sport athletes, seniors impress year round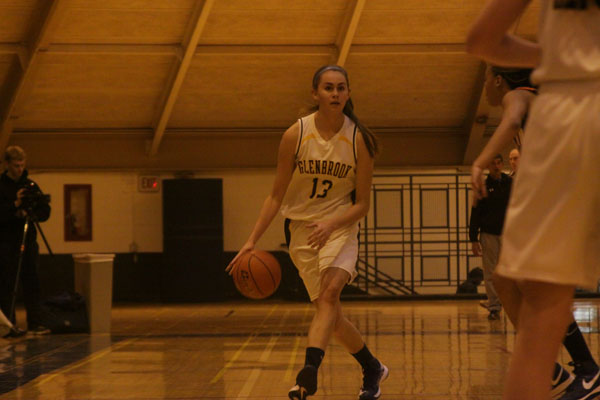 Each fall for the past four years, seniors Katie Dwyer and Teigan Flaws have taken the volleyball court together. During the winter, they transition to the basketball court. Come spring, Dwyer moves on to track and field as a hurdler while Flaws heads to the soccer field. After four years of participating in a sport every season, Dwyer and Flaws say they have learned a lot from being on three varsity teams at South.
With the basketball season over, both girls are transitioning into their next respective sport.
"It's a really different transition and it's kind of hard," Dwyer said. "When basketball ends it is usually sad, but I have something else to look forward to."
Steve Weissentstein, head women's basketball coach, is grateful that the girls have had each other to share the understanding of being a three-sport athlete.
"Whenever there is someone else doing the same thing that you do, you think, 'If that person is doing it then so can I'," Weissenstein said.
According to Dwyer and Flaws, being three-sport athletes have allowed them to become experts in time management, one of the many skills they've acquired over the past four years.
"It's very time consuming, but it's good to stay in shape and meet a bunch of new people," Dwyer said.
According to Dwyer, she has learned to manage her time based off the experiences she has had. Instead of waiting until the last minute to get her work done, Dwyer says that she has learned to avoid procrastination.
"I always have to plan things out," Dwyer said. "I can't do anything last minute. That doesn't work for a three-sport athlete."
Something else they've gained through sports is lasting friendship with their teammates. According to Flaws, she and Dwyer have become close friends from participating in so many sports teams together and is someone she can rely on.
"We have gone through the same teams and coaches for the most part, and I think that really helps us relate to each other," Flaws said.
Flaws also says she has never had a sense of competitiveness towards Dwyer, but instead thinks of her as a friend and teammate.
"We have been through so many seasons together," Flaws said. "We are so used to being with each other on and off the court most of the year."
According to Weissenstein, his first impression of Flaws and Dwyer was that they are extraordinary athletes.
"I had coached both of their sisters, so I knew of them before they came to GBS," Weissenstein said. "Every year they have just gotten better and are obviously a big reason why we had such a great year this year."
Weissenstein also understands the level of stress the girls may go through and applauds them for staying with all three sports, while not specializing to only one sport.
"Not only do they participate in three sports, but they are also really good at all three," Weissenstein said.
The stress that comes from her hectic schedule has never caused Flaws to doubt her decision to play three sports, either, according to her.
"I have never thought of quitting as a on option," Flaws said. "I love all three sports, and [participating in three sports] is something I choose to do."
According to Dwyer, there have been times when the pressure from participating in so many sports got to her, but she decided that the pros outweigh the cons of being an athlete. Dwyer also mentioned that even though she has had to cut things out of her life, it has been worth it.
"You tend to sacrifice your social life for sports, but I'm okay with that," Dwyer said. "Most people have more time to do homework, and I only have a few hours to get stuff done. That has harmed me a little but not much."
Flaws feels that even though there has been stress at times, she has had many great experiences, especially in soccer and basketball.
"Last year for soccer we went down to State, which was really exciting," Flaws said. "We also went pretty far in basketball; the playoff experience is great."
According to Dwyer, her best overall experience has been meeting new people.
"Some of my best friends are from each sport, and it's fun to play with them," Dwyer said.
According to Katie Hoover, head volleyball coach, Dwyer and Flaws have learned to use their athleticism to their advantage over the last four years.
"When they were freshmen they stood out because they were tall and had great athletic ability," Hoover said. "They really grew into themselves and were able to use their height to become more dynamic players as they got older."
Hoover also noted that both girls are strong leaders and supporters to their teammates.
"They show the younger players to keep believing in themselves, even if they are discouraged and frustrated, and to keep working hard and have a positive attitude with your teammates and coaches," Hoover said. "Then as a senior everything will eventually click for you."
With less than a semester left at South, Flaws and Dwyer are embracing the time they have left.
"My goal is to make the rest of my time here worth it and make everything count because it is passing by so fast," Dwyer said.