Lauren Fagel selected as new South principal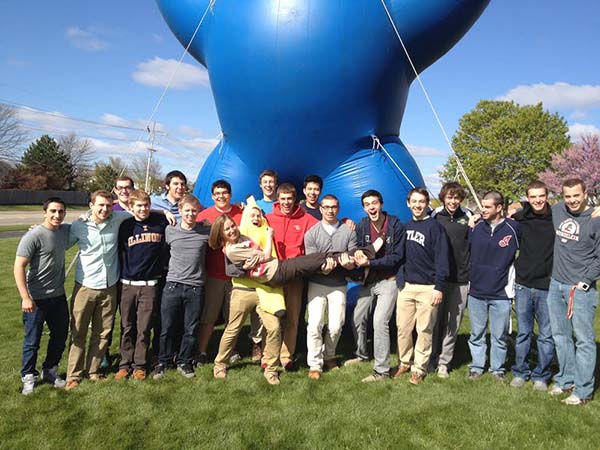 On February 18, the District 225 School Board named Lauren Sternfield-Fagel, a Glenbrook North alum, as the new principal of South. Fagel will replace current principal Dr. Brian Wegley starting July 1.
Fagel was a principal at Mundelein High School for five years before moving to work as the assistant superintendent for curriculum, instruction, technology and assessment for Lake Forest Districts 67 and 115. According to Fagel, she applied to be a principal in District 225 because she missed being around students every day.
"I loved the job [at Mundelein]," Fagel said. "I got up every morning and couldn't even wait to go to work, it didn't feel like work. And now […] I don't get to work with any kids in my current role. So when the positions at the Glenbrooks came open I thought, 'You know, this is a once in a lifetime opportunity. I went to school in this district.'"
According to Fagel, she initially applied for the position at North when it was the only one available. Although as soon as the position at South became available, she let the district office know she was interested there too.
"I wanted to be a principal again and I wanted to do it in the Glenbrooks," Fagel said. "And then Dr. Wegley announced that he was leaving and I was like, 'Ooh, Glenbrook South sounds really, really up my alley.'"
According to Superintendent Dr. Michael Riggle, having an open position at North made the search for a second new principal more convenient on a shorter time schedule.
"When we learned of Dr. Wegley's new job at District 30, we quickly moved to try to replicate the process that had been taking place at GBN so that we could take advantage of the pool of candidates that had already been assembled," Riggle said.
A process that worked at North, according to Riggle, was gathering opinions from students and parents online about what was needed in a new principal. This process was replicated at South after Wegley's announcement of his new position.
"It was the building of a profile for the principalship that we felt was important so that we were reflecting for our own thought pattern and what people thought was needed in the next principal at the school," Riggle said.
Sophomore John Schurer and junior Jacqueline DeWitt were chosen by Dr. Jim Shellard, assistant principal for student activities, as student representatives during the interview process for all of the candidates.
"He thought that we were good leaders and he [thought] that we would be a good voice of the students overall," Schurer said.
According to Schurer, the experience opened his eyes to the hard work that goes on in the building that students don't often see.
"For me, I think the process was an unreal experience," Schurer said. "I'm so fortunate to have been asked to do it, going through it I think I learned a lot about the hard work that the teachers and the administrators put in. I think a lot of kids forget about how much work it might be to do something like choose a new principal."
According to DeWitt, the experience was rewarding because she got to know Fagel early on.
"I think it's cool because I can go around and tell people how cool she is," DeWitt said. "I want to form a great relationship with her and go to her office and talk to her, because she seems like a really great woman and I think it would be cool to get the students' perspective to her [through John and me]."
Wegley also believes that Fagel will be a great fit for the school. "I'm happy for her and happy for GBS," Wegley said. "She's going to be somebody who comes in and loves the place […] I think she's a good choice."
According to Fagel, she does love the school already. She is excited to be somewhere again where she can interact with students and teachers on a day-to-day basis.
"I want to be back with kids and teachers every day, in a building," Fagel said. "Right now I visit the schools [that I work with] a lot, but […] they're not home."
She also loves the diverse culture of South in comparison to other schools in the area. According to Fagel, one of her main goals as a principal is to help foster an inclusive environment for students and teachers alike, no matter their background.
"Glenbrook South has this amazing gift, this diverse student population," Fagel said. "I want to bring my passion for that sense of belonging and how important that is, and make sure that it's a place where everyone feels welcome."
According to Fagel, it was important for her to choose a school that she thought she could love.
"I thought, 'I really want to be a principal again, and I want to be selective about where I go,'" Fagel said. "You do put your heart and soul into the job. It's so many hours, you want to make sure you love it."
Wegley has the same sentiment towards the importance of loving the school. His advice to Fagel as the new principal is to love the place.
"Love it with all your heart," Wegley said. "Love the students, the staff and the community and enjoy it because it is a special place. And I'm sure she will."