Student activists raise more than $1,000 for Syrian refugees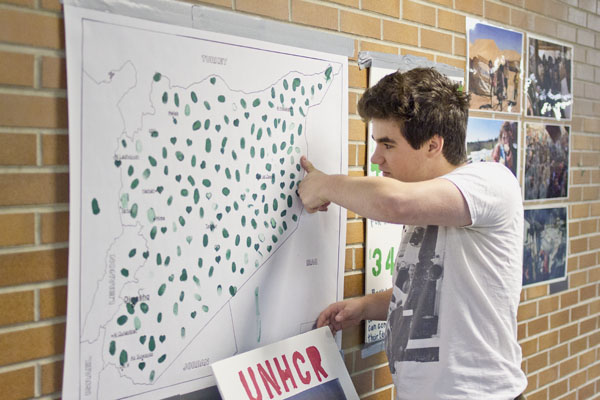 From Oct. 21-25, Stand for Peace (Stand), a global activism club at GBS, organized a variety of events to educate students about Syrian refugees and fundraise for the United Nations High Commission for Refugees (UNHCR).
Over 2.5 million people have become refugees or internally displaced persons as a result of the Syrian civil war, according to syrianrefugees.eu. The civil war began in 2011 and has claimed over 100,000 Syrian lives. An estimated 1.7 million refugees have fled from their homes to Lebanon, Turkey and Jordan, according to unchr.org.
Stand's events included an information table during lunch periods, a form of political theater called a "die-in" Friday morning and a fundraiser, "Stand in the Stands," during the Friday night football game. The informational table's main purpose was to raise awareness for Syrian refugees. The group had posters with refugee statistics, civil war facts and information about UNHCR's efforts in the region. In addition to heightening awareness, the club sought to raise money and get signatures for a petition that would be sent to President Obama to address this issue, according to senior Izzy Fradin, a member of Stand's executive board.
"[The members of Stand] wanted [students at South] to become more aware of the issue," Fradin said. "You'd be surprised of how many people don't know what's going on."
Another event was the die-in, during the morning of Friday, Oct. 25. According to Fradin, members of Stand barricaded the Old Pit with yellow caution tape and taped outlines of bodies on the floor the night before. Then, at 7:30 a.m. on Friday, around 35 members of Stand laid down in the Old Pit to represent those in Syria who have died in the conflict.
The group stayed until the first period bell and drew a crowd of students watching the event. Members of Stand also gave brief speeches about the refugees, according to Matthew Whipple, one of Stand's faculty sponsors.
"The die-in was [a form of] political theater," Whipple said. "The die-in was meant to capture, on a greater level, [our] intention by doing this physical act in front of a large group of people. […] The fact that we got to talk about it all day allowed us a different avenue to make our point to highlight what was going on."
Not only did the die-in serve educate GBS students, but it also helped Stand get a better understanding of the issues in Syria, Whipple said.
"It was also about our students in Stand experiencing this moment for themselves," Whipple said. "Not only is it about the awareness that it brings to other people on the outside, but it brings an awareness to those who are actually participating in it. […] It worked on both levels."
Stand was successful in reaching their goal of student awareness, according to sophomore Irene Kim, an attendee of the die-in.
"I was surprised about how many problems there are in Syria," Kim said.  "I think it was great that [the Stand members] made [students] more aware [of it] in our school."
Stand concluded their Syria week with "Stand in the Stands" where members of Stand fundraised during the home football game on Oct. 25.
"'Stand in the Stands' was what [Stand members] deemed [as] one of the most effective ways to raise awareness and funds for Syrian refugees because we could reach out to hundreds of people at once," Anya Agrawal, regional leader of Stand, said. "I definitely got the impression that people were genuinely interested in what we had to say and wanted to help."
Whipple viewed the week as a success because Stand surpassed their goal of raising $1000. The group raised $1087 and also had over 500 students sign the petition. Irrespective of the numbers, Whipple was proud of what Stand was able to accomplish in the short timeframe.
"I'm proud to be affiliated with a group of students that care as much as they do [about world issues]," Whipple said. "This isn't my group, I just happen to be a sponsor of it. It's the student's group, and [fellow Stand faculty sponsor Daniel Rhoades and I] help facilitate what they want to do. It makes me very proud to say that I'm a part of this group of students."