South alumna Katie Itaya leaves mark through film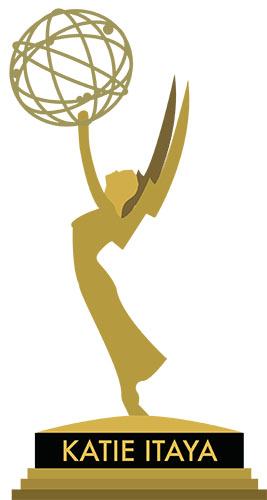 Creativity, ingenuity and desire for film. These are a few aspects that distinguish South alumni Katie Itaya from other film students around the country, according to Julie Benca, Television and Film supervisor.
Itaya's film experience during her time at South gave her the tools to establish herself in the film community, while also giving her a chance to reflect on her past projects. Itaya's cinematography composite of 2020 received a nomination for the National Academy of Arts and Sciences (NATAS) Student Emmy award.
Finding her passion for film when she was eight years old, Itaya noted that one of the coolest things about film making is the ability to replay any given moment over again. Now with more experience under her belt, Itaya has won several first place awards: an award for NATAS and an award for the Midwest Media Educators Association (MMEA), both earned her senior year at South.
"The [film] that won the two awards last year and then got nominated for the national award was my cinematography reel from 2020," Itaya said. "That was easily my favorite project that I've ever done. It was just really cool to watch it all come together and then seeing all of my friends that I was filming and getting all my different shots was crazy. I loved it."
Benca noted that during Itaya's time at South, she was always open to taking on new challenges while still finding creative outlets to make something more interesting and personal. Always having her camera with her, Itaya had many different filming experiences in her early career, Benca explained.
"She really took advantage of every opportunity to practice her cinematography skills," Benca said. "It was a pleasure having Katie as a student. She is super friendly, motivated and excited about Film and TV production and brings her own creative spin to each project that she works on."
Mark Maranto, assistant principal of student activities, explained that Itaya's attitude positively contributed to her film work during her time in his Introduction to Broadcasting class. Emphasizing Itaya's ability to collaborate with others, Maranto said Itaya's interpersonal skills have contributed to her success in group projects.
"In class she had a very dynamic and outgoing personality," Marnato said. "She's extremely talented also but [she has] a very engaging, welcoming and awesome personality. I think that really served her well at South and will continue to do so in her bright future."
For filmmakers, Itaya suggested they value what South offers and take advantage of every opportunity.
"I would say, especially to the kids that take advantage of what [they] have at [their] fingertips and the program, get to know everyone, take everyone's advice and be open-minded even if something sounds crazy and you don't think you could do it, just try and it will pay off," Itaya said.