"We Realize(d)" project exhibits unique aspects in South community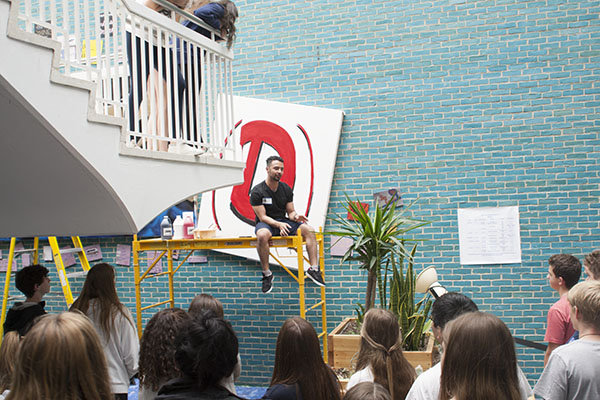 Coated in layers of bronze, blue and black strokes, a 7 foot by 16 foot canvas that reads "We Realize(d)" hangs on the Old Pit wall. This, however, is only a fraction of the masterpiece: 140 foam boards surround it, each hand-decorated by South's very own Titans. The "We Realize(d)" project, according to English Teacher Scott Glass, was in collaboration with graffiti artist Paul Ramirez and aims to exhibit the plethora of unique stories that the GBS community carries.
Glass says that, although he provided all the materials necessary and dedicated a block of each of his humanities classes for work time on this project, one key characteristic of "We Realize(d)" is that it was entirely optional for his students. According to Glass, he believes the objective of the project is for students to expand on their own creativity rather than merely receive points for an assignment.
"I want students to feel safe with taking risks, challenging themselves, and making things where the point isn't good or bad, the point is when you're done making it, you take a step back and you're like, 'I just made this, it didn't exist before, and there's some of me in this thing that I've just created,'" Glass said. "That's the core of what I want my classes to be and that's the core of what I want my life to be."
According to senior Miracle Josaiah, she created five different foam boards for this project, her favorite being one that pictured an egg breaking and the line, "I have to admit that I'm falling apart."
"I think my favorite one was the [egg] breaking apart one," Josaiah said. "Being a second-semester senior, you don't want to do anything but you have to do everything, so I've really been trying to push myself to get stuff done and sometimes it just doesn't work out. Being under pressure is a little difficult for the end of the year, but being able to draw to that board gave me an artistic release [of] stress to be able to express that."
According to graffiti artist Paul Ramirez, who created the centerpiece of the project that displayed the statement "We Realize(d)", one of his favorite aspects of the project was seeing the student work that surrounded his own. In particular, Ramirez says he enjoyed the fact that not all the students who participated saw themselves as typical artists.
"I think what was the most refreshing and awesome thing about working on the project [is that] my piece became disregarded in a certain way, and all these kids were so excited to see what each other did," Ramirez said. "The majority of them were not artists or art students or people that were aspiring [to be], so I realized that I created a space where people can start trying something new and be vulnerable and I think that's a [treasure] in this life."
Similarly, Josaiah says she believes the project removes labels and, in doing so, fosters a sense of togetherness. According to Josaiah, the fact that the majority of the students chose to make their pieces anonymous furthers this sentiment as students are now able to view the experiences of their peers without any barriers or preconceptions.
"Everything is really blatantly put out there on a wall, so everyone can see what people have gone through," Josaiah said. "I think it's cool because [there] aren't any names, there aren't pictures of faces, it's just people's experiences, and people can resonate with that without looking at their skin color or who they are."
Beyond the pieces themselves, Ramirez says that what he truly enjoyed most about the process was witnessing the youth coming together and being genuinely interested in the diverse voices of their peers.
"Overall, my favorite part was watching all these kids so excited to look at all these different pieces of work [that] ranged from serious things to these that were insightful to things that were just downright hilarious, like 'a knee is just a big knuckle,'" Ramirez said. "It was a really wonderful thing to see young, formidable minds [being] included on a real conversation."