Webb motivates students, values failure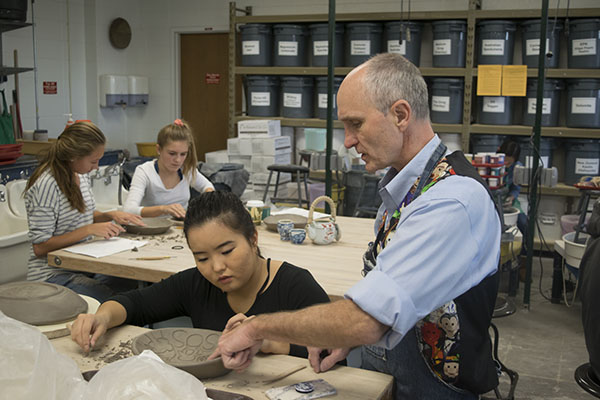 With a warm cup of tea by his side, South's ceramics teacher Kurt Webb constructs another unique piece of art while partaking in a meaningful conversation with his students. After years of traveling the globe, Webb has settled down at GBS and now applies his experiences to his teaching.
According to Webb, he developed a passion for art at a young age. Unlike with sports, Webb felt confident in his artistic talent. Webb says that the ability to reflect and constantly improve, as well as the intimacy formed between the artist and their work, appealed to him the most.
"I think a lot of us do things that we're good at, [things] we're confident in," Web said. "I was so small in school, so little and skinny, that I wasn't good at sports. When it came to drawing you didn't have to be six feet tall, you had to use your brain in a different way."
Webb says before his employment at South, he had taught through a program called Arts and Education, where he worked with students from all ages across Illinois. Webb says he was also a mechanical drafting teacher, and that he briefly taught at Illinois State University as a ceramics instructor.
"I would go all over the state and I would be with students from kindergarten up through college," Webb said. "[Arts and Education] was an extraordinary opportunity to really develop my craft and my understanding of teaching through a huge variety of students."
Students say the main thing that sets Webb apart from many teachers is how he deals with failure. Webb says that not only does he believe that failure furthers the process of learning, he encourages it.
"I tell my students, right from the onset, that we are doing something new and it may lead to failure and disaster," Webb said. "Failure in my class is valued, because we all learn from calamity in the form of collapsing structures, blown up vases and glazes that drip off the pottery. As long as we don't keep making the same mistakes, our problems and our better future solutions can be an extraordinary learning opportunity."
Students from Webb's ceramics class indicate this method is apparent in his teaching. Sophomore Piotr Jankowski says that Webb has a unique ability to motivate students when teachers in other classes can't.
"He's different in every aspect," Jankowski said. "I think that's the reason why he's able to communicate with kids that aren't doing so well in other classes. Mr. Webb is able to communicate with kids … and [it is in] this one class, [that] they're able to motivate themselves."
According to Webb, his overall goal is not to just teach students, but to impact their lives in a positive way. Webb says that years of interacting with students and colleagues around the nation and the world, has led to him being able to connect with students on a personal level, and in turn having a profound effect on their lives.