Mid year art show showcases student creativity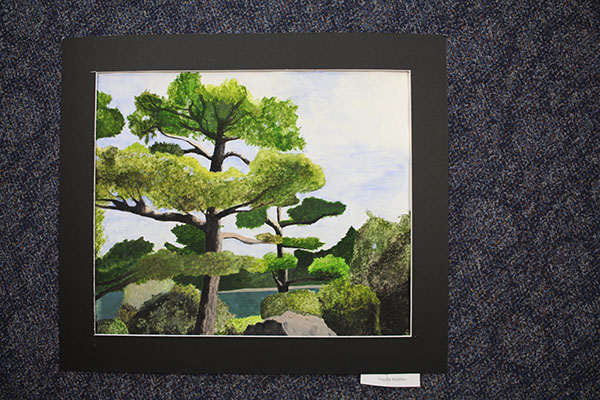 Every year, students who've taken an art class at South have the opportunity to showcase their artwork in the GBS mid-year art show, according to art teacher Natalie Ingaunis. Despite hosting the art show for its 17th year, teachers in the art department were amazed by each original piece, Ingaunis said.
The art department has prided itself in the creativity and devotion that was exhibited by each student regardless of the frustrating process they faced, according to art teacher Kurt Webb.
"I'm really happy we have some really talented work here at South," Webb said. "The level of work that our classes produce are always excellent, [and we do so by] encouraging them and pushing them to do their very best."
According to Ingaunis, students were able to create vastly different works of art, regardless of the fact that they were all given the same assignment within each class. Ingaunis explains that the mid-year art show is a great way to unite all the extensive types of art classes, which consists of painting, drawing, independent studies, ceramics, Latin American art, ell and AP art.
"Putting the work up in itself can be labor intensive, but once it's up, it's wonderful to see the celebration of the work from everyone [into this show]," Ingaunis said. "Most pieces in that show took no less than four to five hours, so that's a lot of time invested. I think it's important that the rest of the school sees that there are a lot of great things going on in the art department."
Sophomore Meg Aki claimed that while the works of art displayed may look phenomenal, the several stages one must endure before finishing such product can prove difficult for a group of art students at a beginners level.
"There is no right way to do something," Aki said. "There are a lot of different [methods] that you can do [to achieve] certain techniques. Everyone's project will turn out differently."
While the art show displayed the students' strongest work, it was also a way to exhibit works of art that show significant meaning or progress to certain students, according to Webb.
"I like everything the students are doing, and [I like] to see their growth from when they started to right now," Webb said. "[I can sense] an incredible growth. [I try not to show] the very best artwork that students have made; [instead], I'm showing their journey into making the art."
Several South students, such as sophomore Sharon Salgado, take advantage of the numerous art classes since art is a prominent aspect in their lives.
"It's pretty much everything I do," Salgado said. "I get home and I draw, [and then I] practice drawing everyday. It's just the main focus of my life right now."
Aki explained that creating art is a process that takes several weeks in order to reach full satisfaction upon the artist. For many students like Aki, it may be intimidating to showcase such artwork; however, the show had a great way of capturing the commemoration of students who put in a lot of effort.
"You have to use your time wisely in class [or do work] outside of class […]," Aki said. "[While it seems frustrating], part of the motivation is seeing it when it's done."
According to art teacher Stephanie Fuja, preparation for the mid year art show can be demanding and time consuming; however, the outcome of the show left an empowering feeling for both the art teachers and students once it opened to the public.
"This [art show is] just a celebration of all the work from each semester and every [student] we have, so [it is not as stressful]," Fuja said.
Webb stated that the mid year art show was a great way to acknowledge the art students as well as inspire potential artists and develop school pride in the art department area.  
"I feel there's a sense of accomplishment, that for us, as teachers but also the students who should feel happy that their artwork has been showcased in such a great venue like this," Webb said.