Sundstrom channels lifelong passion into musical achievements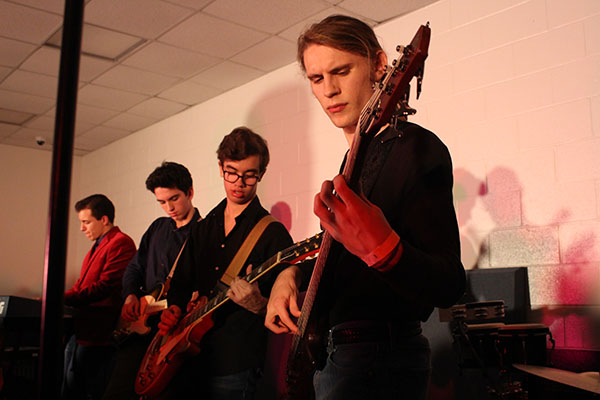 It's a Saturday night in a dimly lit restaurant. The GBS Jazz combo is playing in the background. The sound of a high pitched trumpet rings through the air, as the drums hold the time together for the band. Little does the audience know that keeping the rhythm in the back of the band is sophomore Jack Sundstrom on bass.
According to Sundstrom, music has always been a large part of his life. Growing up in a musical family and playing with his dad's Irish band, he was introduced to the art of music at an early age.
"I started playing drums when I was four [by] jamming with my dad's  [Irish] band […]," Sundstrom said. "I started playing guitar in fourth grade and then went from that. I started picking up a lot of stringed instruments and learning […] anything I could get my hands on. I just loved it."
So far in his career at South, Sundstrom made his mark on numerous musical groups, such as Jazz Band and Orchestra. One of Sundstrom's groups, Perform, created by Greg and Aaron Wojcik, band and assistant band directors, often plays funk and pop charts, according to Sundstrom.
"I am [also] constantly asked by people to play bass in various things for them," Sundstrom said. "I'm pretty much people's go-to bassist, which is busy, but it's fun.It's a lot of music."
According to Aaron, Sundstrom has a lot of passion and a desire to help people who need him. He finds Sundstrom's selflessness to be something rare among young musicians.
"With our winter break, a lot of people [were] out of town and in different places and stuff, so when we  [came] back, [it was] very much rehearsal-heavy with the students that want to put together V-show acts," Wojcik said. "Jack was running around, especially on the audition days. He was in like 13 or 14 maybe, upwards of 20 different acts […] because he's a bassist in the school, and that's a pretty finite resource."
Sophomore bassist Gabe Augustynowicz says in addition to Sundstrom's selflessness, he is also extremely positive and dedicated to what he does. Sundstrom always applies himself and puts all of his effort towards making music, according to Augustynowicz.
"I remember one time we were in sectionals, and we were doing this really repetitive, boring thing, and I said, 'Tell me when you're tired,' and he was like, 'Trust me, I could do this all day'," Augustynowicz said.
According to Greg, Sundstrom is unique from other sophomores because of his talent and ability to compose music, as well as play it.
"He was awarded an all-state spot for composition, and as a sophomore, that's really cool," Greg said. "[…] He is what I call a 'natural feel,' so where other kids are reading notes and producing what somebody else has written down, Jack, as a performer, is interpreting those notes. In other words, he's not just reading them and playing the notes, he's interpreting them and putting emotion into it."
While feeding off the music, Sundstrom says he also feeds off crowd reaction when he performs.
"When I'm doing a good job of [performing], I'm in some kind of bond with the audience," Sundstrom said. "Their emotions become my emotions, and there is this flow of emotion between us. There is also a flow between me and the other performers I'm with."
Sundstrom sees himself as becoming a composer or a conductor in the future.
"The exact thing I want to do in music varies daily, but [I want to do] something with writing music because I love doing that," Sundstrom said.
Sundstrom explained that he finds music can be an outlet for people to truly speak their mind. He also believes music to be a form of communication and a commentary on whatever may be happening at the time.
"[Music] can have a very profound impact," Sundstrom said. "[Bono said], 'Music has the power to change the world, because music has the power to change people.' It can be a really transformative thing."
Sundstrom explained the wide variety of music that he listens to and that he enjoys all of it.
"I like to say that if music exists, someone had to like it, so why shouldn't I?" Sundstrom said. "It's just different. I don't listen to Beethoven and Mozart the same way I would listen to some kind of electronic or hip-hop. I enjoy it all, and there is stuff to be learned from it all. […] I think all music has its merit and its time and place."
Senior JP Rodriguez, fellow jazz band member, says that Sundstrom has a lot of courage, both in the playing as well as writing of his music. Rodriguez also says Sundstrom's focus during rehearsals has helped him.
"He's going to go places," Rodriguez said. "He's an amazing musician, he's very talented, and he's got his heart devoted [to] music at a very young age [which is] very rare."