New co-choir joins Titans, brings new ideas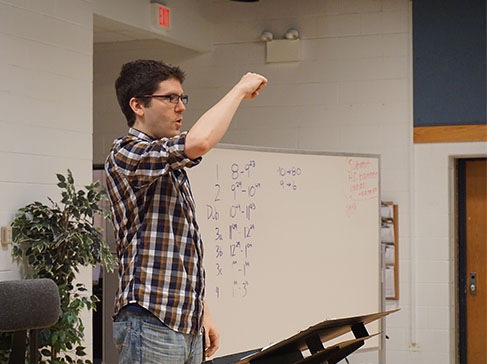 Despite his former Spartan spirit, Glenbrook North graduate Daniel Ermel has joined South's Titans as the new co-choir director.
Ermel says that while he had played piano for several years when he was younger, it was when a friend of his dragged him to a choir practice freshmen year that he became hooked on music.
"[Music] is so involving, I find it everywhere," Ermel said. "In my recreation, if I'm going for a run, I have to have my music in, if I'm playing a video game, [it] has music as a soundtrack, so it's related to everything that we do."
Ermel also believes that the inclusion of lyrics can make the act of singing more emotional, and add a certain level of depth to the performance that playing an instrument may not be able to. He also explains it can be much more emotional for the performer when they are connected to the music.
"I think that singing is a natural occurrence," Ermel said. "Birds sing, wolves howl, all these different animals use their voice for different reasons and we try to find the best reason to use ours here too."
After graduating from Carthage College, Ermel says he performed for a while before he became involved in education. It was during his time as a director of a summer music camp for children in junior high that Ermel says he first became interested in teaching.
"It was such a thrill to see the light bulbs turn on and their knowledge growing, so after working with them, I started doing more teaching oriented jobs," Ermel said.
Ermel says he has always wanted to teach at South, as he believes the passion and talent of the students is unrivaled. According to Ermel things have started off well.  
"I have just been so surprised and excited about the amount of passion that the kids bring," Ermel said. "They don't come to class and go, 'Okay, well it's my class now. I have to be here.' They come and they show up and they're excited and they're ready to go."
Ermel explains that he has had the opportunity to work with some of the same students he had met two years ago during his student teaching in the choir department in 2014. One of these students, senior Alex Solecki, who was in Bel Canto when Ermel student taught, is now a master singer. Solecki says since Ermel has joined, she has really focused on trying to create opportunities for singers to be involved with the school and have chances to perform.
"I find that as a teacher both for [Advanced Placement Music Theory] and choir, he is really committed both inside and out to his job, and I find that really awesome about him," Solecki said.
While Ermel has worked with some of the students before, many are new. Freshman Gregory Golden says he finds Ermel's explanation of not just how to do something, but why and how you can use it later, very helpful. Golden says he finds Ermel to be a technical teacher when they're working, but also an inspiring teacher.
"The way that we're going through, and the way that we are already progressing
through the third week of school is already awesome and that's kind of inspiring," Golden said.
Similarly, Solecki says she finds him to be both an encouraging and a technical teacher. She says his first priority is making sure the singers sound good, correcting the chorus and if necessary, redoing the songs.
"If we make a mistake, he understands and he goes with it and he moves with it and he [says], 'Okay, well maybe we can try something different,'" Solecki said. "It's very 'take it as it comes,' but at the same time, he has the technical ability to tell us what to do when we're doing something that could be better."
Ermel says an overall goal he has for his students during his first year is to see them grow as musicians by starting to look into the deeper meaning of what they sing.
"I want them to enjoy what music is and what it can be and to not take it at surface level, at just what's on the paper," Ermel said. "[I want them] to be able to look into that and see that there's a reason it was written, there's a message being given through it, and to really try to help them think deeper and continue to grow from a depth perspective, not just from a repertoire perspective."