North and South unite to combine talents for this year's spring musical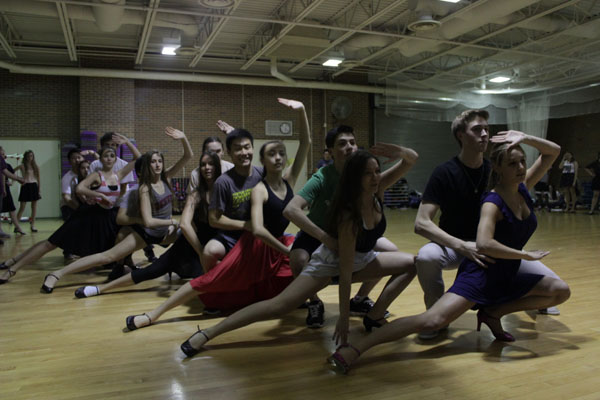 The choir room is filled with excitement as enthusiastic students from both South and North come together and blend their voices into one beautiful melody. Whether it is through singing, acting or dancing, these students have been working hard to bring together the story of love, intolerance and tragedy.
This is a typical rehearsal for this year's Glenbrook Musical West Side Story cast, directed by Stevi Marks and Marty Sirvatka. According to Marks, West Side Story was chosen not only for its quality of plot, music and dance, but also for its relevance to the cast performing it.
"The show offers an opportunity for our students to experience theater at a very high level yet find relevance to their own lives," Marks said. "Additionally, we chose the musical because we knew we had the students to play the roles and members of our orchestra who could play this difficult score."
The plot of West Side Story takes place in Manhattan Island, New York and revolves around the forbidden love between Tony and Maria and the consequences of their relationship. The story is a twist on Shakespeare's Romeo and Juliet, as the "star-cross'd lovers" are forced to face the disapproving opinions of their friends and families.
Like the two opposing families of Romeo and Juliet, the Jets and the Sharks represent the two rival gangs of New York trying to keep the couple apart. Tony, played by South senior Tim Kirby and North senior Nathan Salstone, is a Polish immigrant and former member of the Jets who falls in love with Puerto Rican immigrant Maria, played by North seniors Julia Levinson and Rebecca Elowe. The conflict is that Maria's brother Bernardo is the leader of the rival gang of Sharks and will do anything to keep them from being together.
As a story that consists of intense love and tragic death, it was important that this year's cast consisted of not only singers, but also strong actors, according to Sirvatka.
"We're looking for triple threats," Sirvatka said. "In this particular case, there is music and then there are songs that go in the middle of the dialogue. There's a whole bunch of speaking, so we're looking for great acting."
Aside from singing and acting, West Side Story also focuses heavily on stylized dance. For junior Hannah Schiller, who plays Bernardo's girlfriend Anita, this dancing aspect is very important in communicating plot and emotion.
"West Side Story was one of the first shows that used dance to advance the plot, so getting to perform it is different than any other show I've been in," Schiller said. "The emotions and the story and the setting are raw and intense, and one of our biggest goals is to portray these strong features to the audience."
Another important component used to communicate plot is the music played by the pit orchestra. According to Marissa Takaki, sophomore pit member, a lot of the intense nature of the story has to do with the live music.
"It is important to have live music as opposed to a track because it gives the singers more musical freedom to pull and stretch their lines," Takaki said. "The track doesn't have the right character, feeling or emotion that is incorporated with real players."
Senior Melanie McNulty, who also plays Anita, agrees with Takaki on the importance of drawing the audience into the characters' lives and story. It is also their presence and excitement that McNulty enjoys before every show.
"[Performing] is definitely extremely nerve-wracking, but I love the adrenaline rush that comes with the audience in the house when you walk out on the stage," McNulty said. "The story is very moving, and the hatred and love are so intense. You can really become invested as an audience member."
Junior Jeffrey Mathew, who plays Shark member Chino, explains that in addition to performing for the audience, one of the best parts about musical is being able to work with new students.
"Meeting new people from North is by far my favorite part of the musical," Mathew said. "Already, I have met so many enthusiastic, funny and talented kids. It really is a privilege to work with them."
Sophomore Julia Packer, Shark member Rosalia, is also in accordance with Mathew.
"It's so much fun to work with so many new people," Packer said. "Everyone is so enthusiastic and we all have the same goal, which is to make the show as great as it can be. Being involved in the musical is such a wonderful experience, and something I think everyone looks forward to every year."
This year is Stevi Marks's final year directing the musical. West Side Story will be held May 1-4 at 7:30 p.m. in the South auditorium.
About the Contributor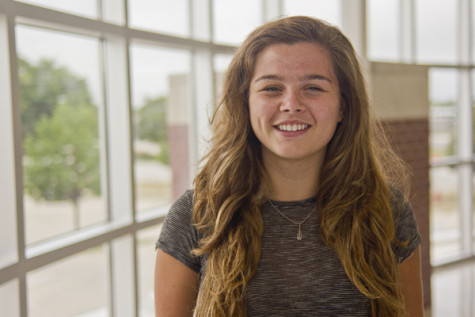 Kali Croke, Co-A&E Editor
Kali has been writing on The Oracle since the fall of 2012 and is currently the co-editor for A&E. She is a member of the student council as president...