Sophomore Salomon shines in second year on varsity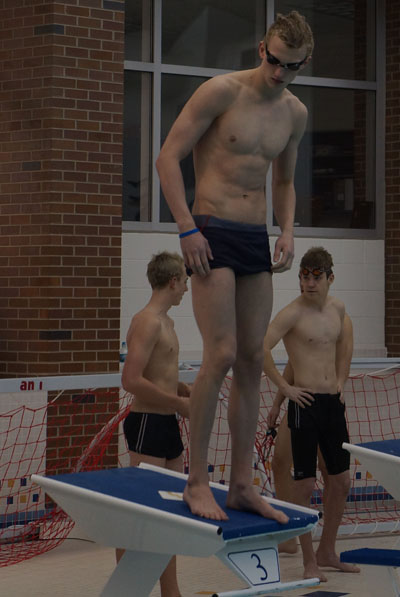 Caroline Bickle, Staff Reporter
February 1, 2013
Hang on for a minute...we're trying to find some more stories you might like.
In his second year on varsity, sophomore Jonathan Salomon has shown improvement since he joined the GBS varsity boys swim team after taking up the same interests as his brother Andrew. As he races through the swimming season his times are ranked second in state in the 200 yard IM and third in the 100 yard breaststroke.
According to Keith MacDonald, head men's swim coach, he has had a terrific season, with many personal best times. He also says that he has really improved on his swimming techniques, which is the result of his work ethic.
Senior teammate Tommy Cahill agrees that Salomon has been working hard this season.
"He has learned how to train harder [during practices] which is definitely going to help him out [at the end of the year]," Cahill said.
Cahill also says that besides pushing himself he also pushes his team.
"He's always telling people to [refrain] from slacking off and to work harder," Cahill said.
His hard work pays off at meets and practices, according to MacDonald, who says Salomon is often exhausted after practices and races.
Senior Ethan Spalding, who has now been Salomon's teammate for two years, believes Salomon's defining moment occurred Jan. 12 at Titan relays. Salomon was the anchor leg of the sophomore 4×100 yard freestyle relay, and as he entered the water, Titans trailed their counterparts from Warren by four seconds. Salomon caught the Warren relay with a time of 46.52 seconds.
"When he was coming up in the sophomore relay, everyone on our team knew he was going to do something special," Spalding said. "His confidence on the blocks was clear, and even though we were losing by a lot, we assumed he would make it a race. But no one expected him to go a 46 [to catch up]."
MacDonald believes a key element to Salomon's success is gives "max
effort" during practices and meets alike.
"He is extremely dedicated… and has ups and downs like everyone." MacDonald said.
Salomon recognizes that he will not reach his goals without extreme effort.
"Practice isn't easy, and you don't get better by going easy, you get better by going harder and faster," Salomon said.
According to Salomon, consistently giving it his all is how he will work to achieve his goals. He will spend the next two to three weeks balancing speed work and resting for approximately 2-3 weeks, a process known as "tapering" that maximizes performance at championship meets.
Salomon currently has his sights set on two relay and two individual events at the state meet, which will occur Feb. 22-23.