Peer Group reworks plan to best support freshmen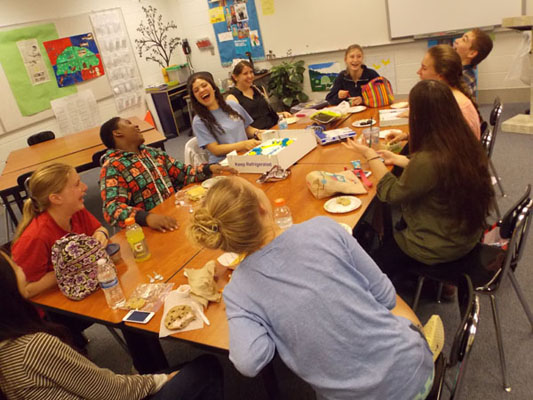 Sasha Vassilyeva, staff writer
May 23, 2014
South's Peer Group Program will be expanding next year by adding classrooms, teachers and senior leaders, according to Joy Cooper, Peer Group coordinator.
Peer Group started in the 1970s as a transition program for freshmen coming into South from middle school, according to Cooper.
"It's a way for kids to meet some new kids [and] to start to feel like this massively huge school is a little bit smaller a couple days a week," Cooper said. "[Peer groups] get together, they do activities [and] they actively teach things like listening and communication skills."
Because of increasing enrollment, next year's Freshman Class will be bigger than past classes. According to Cooper, Peer Group will be running every block.
"We've tried really hard as the school's changed and as kids have changed, to put ourselves in a position to get to as many freshmen as possible without compromising some of the things that they need and some of the things that they want," Cooper said. "Next year what we're offering is eight periods a day."
Freshmen will have the option to split their free block into two periods, having the second half be used for Peer Group, which senior Elise McCune thinks will help the program reach more freshmen.
"I think [the study hall] will spike attendance in Peer Group, and that's ultimately what we want […] to reach out to as many people as we can," McCune said.
Currently Peer Group meets in unused classrooms during one of the three lunch periods. Although, with the size of next year's Freshman Class, Peer Group will be held in rooms designed for the program's use.
"[The school has] had to do a lot of shifting in a lot of different places," Cooper said. "There'll be a Peer Group room and then also they're creating these smaller spaces, they're not going to be full size classrooms, […] for kids to meet."
To lead the larger class size, there will also be an increase of Peer Group leaders, from approximately 60 to approximately 80, which McCune thinks is beneficial.
"It just [allows] more people to get involved and allows more people to take part and get the experience that we got to have," McCune said.
Along with an increased number of senior leaders, Peer Group will add two new advisors: David Schoenwetter and Courtney Kelly. Currently there are two leaders per lunch period, but with eight blocks the program needed to add two more.
Peer Group does not only act as a service to the incoming freshmen, it also serves as a leadership program for seniors according to Cooper.
"I really have seen a lot of growth in my seniors," Cooper said. "It's really cool to listen to them grow and learn; they're really teaching some important skills and that's really important."