Senior writes her way to Carnegie Hall with national award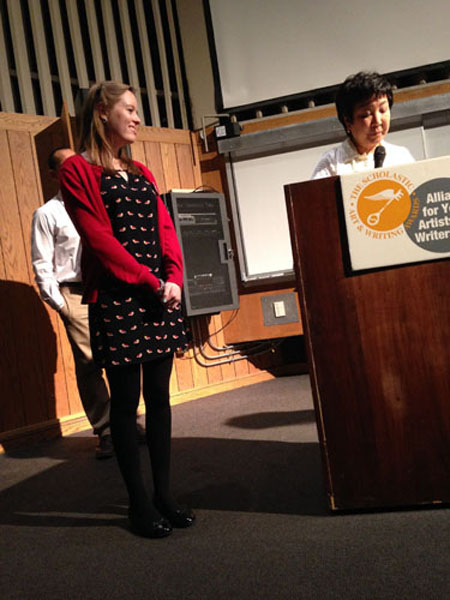 Sasha Vassilyeva, staff writer
April 22, 2014
Senior Carolyn Kelly won a National Gold Medal in the Scholastic Art & Writing Awards for her short story "The Harvard Hopeful's Handbook." Kelly will receive her award at Carnegie Hall in June.
Kelly originally wrote the story for her Advanced Creative Writing Class and submitted it to the Scholastic Art and Writing Awards in December 2013. According to Kelly, she has previously won regional awards through the organization but never expected to win nationally.
"Last year I hadn't made it [nationally], so […] I didn't get my hopes up too high," Kelly said. "But to not have your hopes up and then just get the greatest gift ever was so fun."
According to The Scholastic Art & Writing website, The Scholastic Art & Writing Awards were created by Maurice R. Robinson in 1923. Students in grades 7-12 can submit either art or writing, and if they win gold regionally their work moves on to the national level. According to Kelly, only 1 percent of all submissions win national awards and are recognized at Carnegie Hall in New York City. The Gold Medal is the highest national award a student is able to receive.
Cheryl Hope, Creative Writing teacher, has read and enjoyed Kelly's story and was glad to find out that she had won the award.
"I loved the title right away," Hope said. "I must say I wasn't surprised [that she won the award]. I knew it was of a caliber that it could win."
According to Kelly, "The Harvard Hopeful's Handbook" is the story of a high school senior who was groomed his whole life to apply to Harvard University—and the moment he changed his mind. Kelly said the inspiration for the piece came from her and her friends' experiences applying to college.
"It's sort of about college and all these Ivy League institutions, what place they hold in our lives and how we kind of idolize them without really considering if they have what we want," Kelly said. "I was in that environment for a long time [when I wrote it]. It was getting down to early application deadlines for certain colleges, all my friends were talking about college, I had just finished my own Ivy League college application, and all those thoughts—just is it really worth it?"
Kelly said that she used the theme of college and testing to play with the untraditional style of the story.
"This [character] is a kid who's been focusing on definitions so much, and these prep books and testing," Kelly said. "I tried to incorporate that format into the piece, so it would have interjections of 'What does this giant vocabulary word mean,' and 'What does this scientific principle mean,' and using that 'A, B, C, D, choose one of the above' formats. I tried to bring that in there and incorporate that for my theme, because that's how this kid's head is wired now. It's the only way he knows how."
According to Kelly, she has known that she wanted to be a writer since the third grade, and a big influence on her passion was her grandfather, Dan Kelly. Dan said he read "The Harvard Hopeful's Handbook" several times and enjoyed it very much.
"She's [an] excellent [writer]," Dan said. "I'm sort of constantly amazed at how well she writes. I was just blown away by [her story]."
Dan was excited to find out that Carolyn had won the award and was proud of her.
"[I was] very elated, of course, because I knew what kind of hard work had gone into forming her attitudes and her writing abilities, and to see it rewarded was really [special]," Dan said.
Carolyn said her national recognition could help her be accepted to the Iowa Writers' Workshop.
"I really want to go, and I don't know if I'll get in, but [winning the award] gives me some hope that someone out there thinks I have something to share," Carolyn said.