Students listen to music in hallways, explain reasons
South students are often seen walking through the hallways listening to music. Although passing periods are just five minutes long, students claim that listening to music often pumps them up while walking down the hallway.
According to an Oracle-conducted survey of 207 students, 37.7 percent will always or sometimes listen to music in the hallways.
While sophomore Sara Mouayed listens to music in the hallways, she also listens to pump-up songs throughout the school day.
"I usually just pick songs that will hype me up," Mouayed said. "It kind of helps give me energy for my next class."
Junior Yunsu Yu did not listen to music in the hallways last year and noticed a difference in her energy level.
"When I didn't have an iPod last year, it really made walking through the hallways boring," Yu said. "But now with the music makes me energized, especially in the morning because I'm dead."
In the same Oracle-conducted survey, the most popular genres of music played throughout the hallways are rock, rap, pop, hip-hop,and alternative.
Similar to a lot of South students, sophomore Seby Achettu likes to listen to rap music.
"I like to listen to rap in the hallways because sometimes I feel like that fast beat of some of the rap songs can make you walk faster in the halls," Achettu said. "I can't choose any  rap song in particular that I like the best, but my favorite rap artist that I listen to the most is Childish Gambino."
Unlike Achettu, sophomore Justin Miller likes to listen to dubstep and house music because he says it has a smooth beat, good rhythm and melody.
Junior Julius Cheung says he listens to any type of music that he finds interesting.  His most recent favorite is the album Clarity by Zedd.
Yu has playlists for both "sad days" and "upbeat days" and plays them according to her mood.
"The sad songs I have recently been listening to are by Ed Sheeran and an upbeat song that I have been listening to a lot would be Gangnam Style," Yu said.
Yu believes that some students do judge their peers that like to listen to music in the hallway, but she doesn't pay it any mind.
"I honestly don't really care because most of the time when I walk in the hallways, I don't want to talk to anyone," Yu said.
Mouayed said she can be hesitant when it comes to listening to music in the halls.
"Some days I just feel really self-conscious," Mouayed said. "And other days I just totally zone out and don't care what other people think, because the music you listen to can sometimes take you into a whole other world."
About the Contributor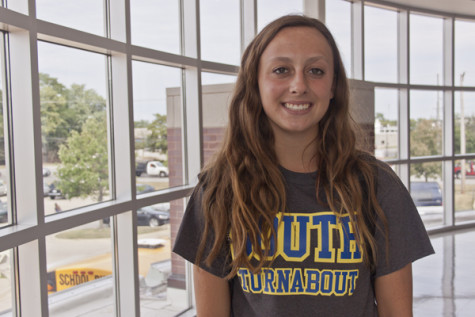 Caroline Berg, Staff Writer
Caroline Berg has been on The Oracle since her Sophomore year. Last year, Caroline wrote for Features, but she really looks forward to trying something...