ASL Art Gallery emphasizes kindness to all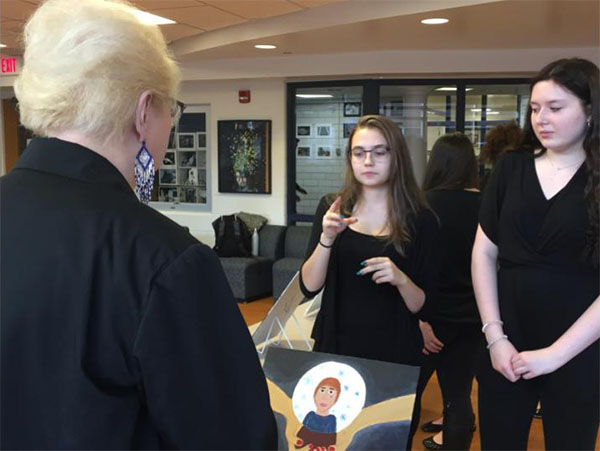 Yoon Kim, co-a&e editor
December 14, 2018
In a room of astounding silence, junior Adair McMahon paints a blank canvas with strokes of both paint and empathy. Every mark she makes is a tribute to the Deaf community, as she attempts to convey the complex family dynamics of children who are Deaf, as well as their struggles.
The painting, according to McMahon, was the summative assessment for American Sign Language (ASL) 3 and 4's recently-concluded unit on deafness and the family. McMahon says that, along with watching And Your Name Is Jonah, a movie about a misdiagnosed child who is deaf named Jonah, ASL students read a variety of poems and articles related to the topic and then worked with a partner to illustrate one of these perspectives through a painting.
"[In our painting], we had Jonah in the middle, crouched down, and then there were a lot of mouths and lips around, because it's the mode of communication that he doesn't have," McMahon said. "The words are saying "stop" or quotes from the movie, like how they called him a "freak" a lot, and things like that. [Each] mouth represented different things said to him or the relationships that he had with his parents."
McMahon says once the paintings were completed, they were brought down to the Student Activities Center in early November, where parents, students and other classes were invited to view the students' artwork. According to McMahon, one of the two students who had worked on the painting explained the message behind their piece while the partner delivered the same script through sign language.
"A lot of people just don't really know about Deaf culture or Deaf community, and it was really cool to explain to them what it is," McMahon said. "My mom was there, and she had no idea about [the Deaf community], so [I got] to sign and kind of give [her] a glimpse into the Deaf world. [We got to be] that bridge between the hearing world and the deaf world."
For senior El Eavenson, this project allowed her to showcase her skills in a creative way but also furthered her understanding of the content. According to Eavenson, the active engagement of interacting with viewers and presenting their pieces was more effective and appropriate for this unit than a written assessment or multiple-choice test.
"Part of our presentation was making the painting, but [another part was] also explaining it to people who came into the gallery or our teacher," Eavenson said. "I think that is a much better benchmark of understanding. If you're able to teach another person, then you can understand things a lot more than just taking a written test and having a 25 percent chance of having the right answer."
Rosemarie Carsello, ASL teacher, says that she was impressed with the students' level of commitment. Furthermore, Carsello believes the hands-on approach to this unit allowed her students to comprehend the material on a deeper, more personal level.
"[Many students said] this project forced [them] to really dig deeper into the true meaning of the movie and into the concept of not accepting a child because [they're] Deaf, and how that might impact a family," Carsello said. "It really made them think about it and be introspective about it."
After having completed the project, McMahon says that viewing the world through the shoes of a person who is Deaf reminded her of the simple, yet genuine kindness necessary on a daily basis.
"My biggest takeaway would be the simpleness of just being kind to people," McMahon said. "You never really realize what people are going through, especially people who are deaf or if they're disabled, [and whether they're] black, white, gay [or] straight, I think being kind to everyone's own struggles and personal battles is really important."