South TV students awarded at CTEC-hosted festival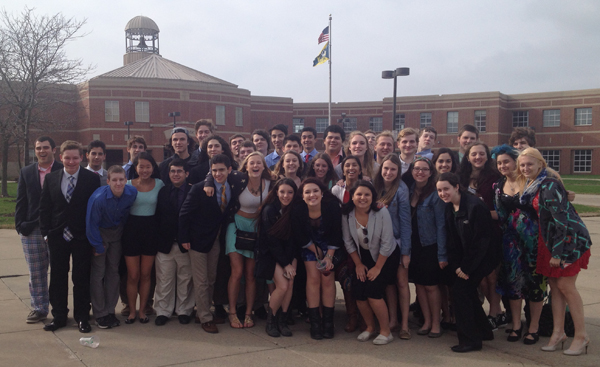 Danny Fookson
May 23, 2014
On their way to the Chicagoland Television Educators Council (CTEC), South TV students anxiously awaited to see if their videos would be recognized at a festival held at Neuqua Valley High School on April 25. That same level of energy vibrated through the bus on the way back to school because, according to Mark Ferguson, TV and film instructor, South won more awards than any other school that attended CTEC.
According to Ferguson, this was the best performance South had at CTEC since 2000 in terms of the number of awards won. Ferguson believes that much of the success can be credited to former television students at South.
"Every year is a continuation of the previous year," Ferguson said. "The kids this year had great mentors last year. The former students have a legacy they left here that the current group of kids want to follow."
Students from high schools across Illinois and out of the state can enter one video of five minutes or less in each of 14 categories that are judged by professionals in television. According to senior Wyatt Richter, winner of the Cinematography, Documentary and Comedy categories, these schools are put into two divisions based on the funding the schools get: Division A and Division AA. Wyatt explains that although South has always been in Division A, the higher division, this was an exceptional year.
"Our film program has definitely gotten significantly better over the course of the last several years, and we are always trying to better ourselves," Richter said.
One entry that Richter tried to top was the comedic narrative from last year's variety show. According to Richter, this year's comedic narrative "Biggest Fan" was the biggest project that he has ever directed and it took months of planning to pull it off. Richter says that the difficulties of this narrative caused him and the rest of the TV crew to work on the production until the night before the show.
"A few weeks before [the Variety Show] and we hadn't shot a few very important scenes and Ferguson came up to me and asked, 'I don't know, Wyatt. Is this happening?' and I said, 'I don't know, maybe not,'" Richter said. "Still, it ended up working out, and we made a really good video."
Richter is not the only one who feels proud of the work that got him first place. Junior Janie Kahan got first place for her documentary about deaf culture and says she felt ecstatic when she heard her name get called to accept the award. Beyond that, Kahan explains that the award possesses greater meaning than excitement.
"[Getting recognized] is validation that I did a good job; it's validation that I'm working hard, it's validation that I'm a great filmmaker," Kahan said. "It gives me the confidence to take risks in filmmaking."
Aside from showing their own work, South students get a chance to see the television productions of schools around the area. According to junior Van Hershey, CTEC is a great way to meet other young filmmakers.
"The thing I'm most excited about is being with the people who share the same interests as me, and I love to see the productions that other people have made for CTEC," Hershey said.
Similar to Hershey's enthusiasm about the conference, Ferguson draws continued joy from South's program itself.
"You develop students who serve as inspirational mentors and then you allow that program to perpetuate itself," Ferguson said. "Ideally, every year should be better than the previous year."​