Nelson takes advantage of new experiences, leadership roles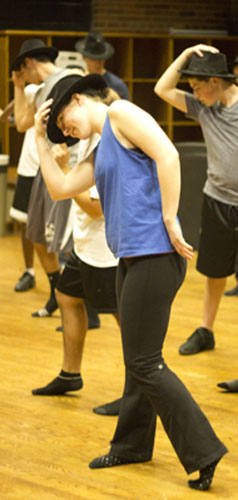 Jess Melchor, staff writer
February 26, 2014
This year senior Bridget Nelson is experiencing a new position – drum major, meaning she conducts the band. Her list of extracurricular activities includes being co-captain of the Orchesis dance group, co-drum major for marching band, peer group leader, and a part of the Variety Show.
"I like being in music because it's a way that I can express myself, and this year in particular I really enjoyed marching band because I was the drum major," Nelson said. "That was really fun. That was life-changing."
There are many words to describe Nelson, according to Orchesis co-captain Janna Lyhus.
"[Nelson] is dedicated, enthusiastic, creative, and genuine," Lyhus said. "When you think about Bridget, you know that she's really passionate about the things she's involved in and that she wishes she was involved in more things than she already is."
Nelson is also involved with another dance studio out of school, making her day typically busy. She does not have much free time and usually gets home around eight or nine. According to Nelson, one of her biggest motivations is her family.
"My grandma is an inspiration to me," Nelson said. "I call her Gummy. She spent a lot of time with me as I grew up and I believe in a lot of morals that she has instilled on me. She's awesome."
Nelson's leading skills are evident to others around her. According to Lyhus, Nelson directs others in the right direction.
"She has an expectation of the people she's leading, but it makes the people she's leading better," Lyhus said. "I think that the people are better because of her leadership."
One of Nelson's fellow drum majors is senior Joseph Lee. Nelson's leading skills are a great thing, according to Lee.
"I think she's a terrific leader," Lee said. "She knows how to take control while still considering other people's opinions. She's very talented and she's also the one taking the leadership role out of [the three drum majors.]"
Nelson's character is easy going, according to Lyhus.
"I think that Bridget's most admirable quality is how approachable she is and also how prepared she is," Lyhus said. "Sometimes when people are educated in whatever they're doing or they're very skilled, they can have a certain air about them that makes it hard to ask questions from them, but with Bridget she's able to excel at dancing. She's able to teach what she does in a really clear way as well."
Nelson is very deserving of all her accomplishments so far, according to Orchesis co-captain Rosalie Mahler.
"[Being a captain] is such a big honor and she's so deserving of that, so I think it's really cool that they pick someone who's so good for the part," Mahler said. "It's not like she's full of herself or doesn't care about other people, so I really like that."
Nelson manages to be involved in activities and balances everything else by being able to prioritize time and being able to determine what is important.
"High school without activities is homework and nonsense work and getting involved was just amazing because I was able to meet new people and learn new things," Nelson said.
Balancing the work in different areas of activity is great, according to Mahler.
"All around, she's just a great person," Mahler said. "It's cool that she's involved in different things, like band, dance, and she's a peer group leader, too."
Nelson's plans for college are tentative where she majors in human resources or leadership, and a specific college is yet to be chosen.