Chambers' carols carry spirit through community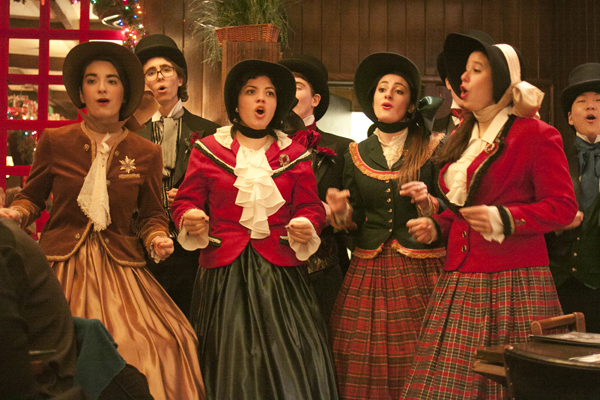 Danielle Callas, staff writer
December 20, 2013
Now that the holiday season is approaching, Glenview will soon be home to sounds of the season at restaurants, nursing homes and in South's hallways. The annual tradition of the Chamber singers is in full swing as they continue to prepare for their upcoming caroling season.
Chambers Director Martin Sirvatka has led the group for 20 years and is excited about what this season has to offer.
"We have a great group this year," Sirvatka said. "They have practiced really hard, and I can tell they are all really excited."
This year Chambers includes 22 students: 11 boys and 11 girls. Chambers is mostly known for their holiday performances around the Glenview community. According to Sirvatka, not only do they entertain with their voices but also with the traditional Victorian-style clothing, which junior Katlyn O'Brien, Chambers member, greatly appreciates.
"I really like the look of the outfits, especially the hats," O'Brien said. "The guys wear top hats and the girls wear bonnets. I think it really completes the outfits."
This year Chambers learned 28 Christmas carols at their annual "marathon day," according to junior Marley Hambourger. After the marathon, they all went out for some midnight bowling and bonding.
"Marathon day was one of the most amazing days I've had since I've been at GBS,"  Hambourger said. "It was really great to get to know everyone in the group better because we all get along so well."
Freshman Sara Salerno, a member of Girls' Glee Club, realized how enjoyable and impactive Chambers is and aspires to be a part of it.
"After seeing one of their performances and talking with some of the Chamber singers, I'm amazed at how professional the group is and how much they accomplish every year," Salerno said. "It seems like it would be a really fun group to be involved in."
Though the group practices all school year, the bulk of their big performances is in the winter, according to Sirvatka. They have 10 gigs at Hackney's starting on Dec. 11 and are scheduled to sing carols around the restaurant for a few hours, performing in octets with one person singing each part.  There are two soprano parts, two alto parts, two tenor parts and two bass parts, according to Hambourger.
Senior Laura Mosteller, a soprano one, described the experience of singing at Hackney's as "frightening and weird" because she often sings "two feet away from someone who might be eating a hamburger."
The group also performs at Maryhaven Nursing Home, according to senior Tom Olickal, Chambers member. At this event, they perform together with Nine and Solace, two other acappella singing groups at South.
"It makes us happy knowing we are making others happy by singing for elders at retirement homes," Olickal said. "I feel such a sense of pride and accomplishment."
In addition to the holiday performances around town, the group learns classical songs and performs as a group in the Variety show in February.  To become a member of Chamber singers, the group holds vocal tryouts at the end of each school year.
"You really bond with everyone," Olickal said. "You go in without knowing anyone in the group,  but by the end, you are best friends with everyone."