South designates private bathroom facilities for student wellness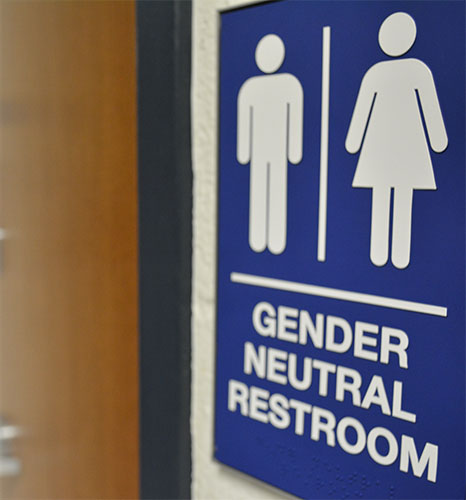 In response to the petition organized by Gay Straight Alliance (GSA) in the spring, South has designated two gender-neutral restrooms this school year.
Due to the recent nationwide discourse regarding gender in schools, sophomore Kaleb Garden and other GSA club officers felt compelled to organize the petition at South.
"We wanted to make a statement that we accept everybody here at South and no matter who someone is, they deserve to feel safe," Garden said.
According to GSA sponsor Katrina Prockovic, their club's petition received over 800 signatures from South students in support of gender-neutral spaces.
"I think the support the school showed was worth its weight in gold," Prockovic said. "For kids to see their classmates stopping and signing this petition and showing their support was a really unifying experience for them."
Additionally, Prockovic says that most faculty members have embraced and praised the implementation of the new facilities, which include two private changing stalls in both the boys' and girls' P.E. locker rooms.
"The staff feedback has been incredible," Prockovic said. "They're not only glad that we have these actual bathrooms available, but really proud of the fact that they work in an institution that was able to listen, respond and [take action]."
Before the restrooms were an option for students, some would use the nurse's office for privacy, according to Prockovic. Now, the two centrally located single-use bathrooms—adjacent to the Autos Shop—offer an alternative for students. According to Principal Lauren Fagel, the gender-neutral spaces are intended to make all students feel welcome.
"[As administrators], our job is to keep kids safe," Fagel said. "We need to do whatever it takes to do that. If it means learning about gender identity and gender identity challenges, we have a responsibility to do that."
The process of petitioning for the bathrooms was a unique learning experience for GSA, according to Prockovic.
"This is the first chance they have gotten to see activism and what the positive results can be," Prockovic said. "They organized, they acted, they met with the administration and they saw the fruits of that."
A key factor in the creation of the facilities was staff acceptance, according to social worker David Hartman, in comparison to other schools that aren't as cooperative with diverse student needs.
"I think our staff here is incredibly receptive to trying new things, to talking to people differently, to providing different space and different conversation," Hartman said. "Our administration is resisting nothing […] It's awesome."