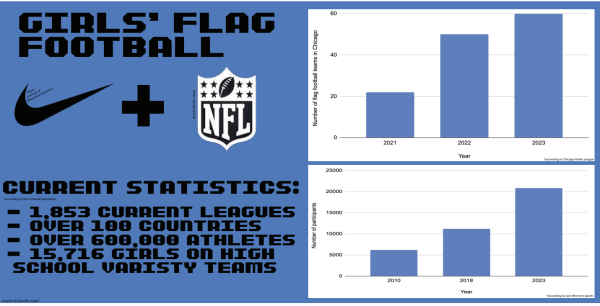 As many high schools around the country introduced flag football to their athletic programs, the National Football League (NFL) and Nike have been the mastermind behind the rapid growth of these flag football programs in high schools. This initiative began in 2021 when the NFL partnered with Nike to raise five million dollars to fund girls' flag football teams in high schools around the U.S., Just Women's Sports reported. 
Making Flag Football a global sport, the NFL assigned all 32 NFL teams to a specific country to help form girls' flag football leagues. The  Chicago Bears and the New York Jets partnered with the U.K. to launch the Girls' Flag Football League in March. During the 2023 NFL offseason, Bears wide receiver Chase Claypool and Jets tight end C.J. Uzomah traveled to London to help kick-start the league. While they were there, they participated in a panel where they explained the benefits of girls playing flag football and even held drills with the girls' flag football athletes, the Chicago Bears reported. 
Prior to their organized efforts in London, in 2021, the Bears partnered with Chicago Public Schools to create Chicago's first high school flag football league. The league began with  22 teams, and in two years has expanded to over 50 teams across the Chicagoland area, according to the Chicago Tribune. The Bears volunteered Halas Hall, the team's practice facility, for the flag football league championship games.
With the rapid enrollment in high school girls' flag football programs, 100 schools within the National Collegiate Association (NCAA) have expressed interest in adding girls' flag football teams to their program, Sports Business Journal explained. Along with the growing interest, the NCAA DIII three Atlantic East Conference reported that they have partnered with the Philadelphia Eagles and the NFL to bring girls' flag football to their conference as early as spring 2025.