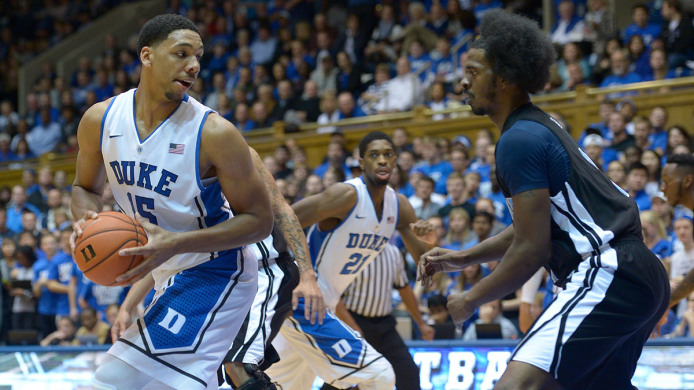 As the 2015 NCAA tournament has come to a close, the dominos are quickly falling. These dominos are the freshmen who will forgo the rest of their college careers in order to enter the NBA draft, or as they are better known, one-and-dones. 
In 2005, the NBA made a significant stride towards making sure their players have a taste of the NCAA. By changing the draft eligibility age from 18 to 19, the NBA requires players to have attended at least one year of college. This rule, widely regarded as unpopular amongst players, morphed college basketball from a team-oriented system into one that focuses on the success of individual freshmen. This comes with the conceived notion that they will be playing in The Association come October.
Allowing high school players to come to the NBA skyrocketed the careers of future Hall of Famers like Kobe Bryant, LeBron James and Kevin Garnett. However, for every Kobe, LeBron and KG that is produced, there is an Eddy Curry, a Kwame Brown and a Robert Swift.
Story continues below advertisement
To show the destruction that a lack of college experience can have on a player, let's examine Curry. As one of the most highly touted prospects out of high school, Curry began drawing comparisons to future first ballot Hall of Famer Shaquille O'Neal. But the 6'11", 300 pound 18-year-old never lived up to his "Superman" expectations. In fact, not living up to expectations is a cruel understatement. In 2009, Curry had a box plus-minus of negative 23. In other words, for every 100 possessions (an average NBA game has about 96 per game), Curry contributed negative 23 points for his team. Newspapers make typos all the time, but this was not one.
Unlike Curry's experiences, some players have benefited from a year of college. Similarly, we can dissect NBA All-Star Anthony Davis. As a sophomore in high school, Davis stood at 6'2" and was a talented guard for Chicago's own Perspectives Charter, whose outlook seemed to be a low level Division I player. However, over the next 18 months, Davis sprouted into a 6'10" center and became the nation's top high school player. After growing eight inches in a year-and-a-half, scouts salivated over his potential. But what Davis really needed was a year to fully grow into his new body, which he did at his mandated year of college at the University of Kentucky, and now has evolved into arguably the best big man in basketball.
The purpose of college is to prepare kids for their future professions, whether they want to be doctors, lawyers, etc. For these one-and-done freshman, college prepares them for their careers as professional basketball players. Calling college players crazy for entering the NBA Draft after their freshman year is the equivalent of calling a freshman engineering student crazy for leaving college to take a top level job at Apple or Google. Really, both are leaving college to accept the highest level job in their profession.
People hype up the one-and-done argument, but in reality, it is a lot less prevalent than we think. Ever since the NBA instated their one year of college rule in 2005, only 11.7 percent of draft picks have been freshman.
Furthermore, many of these kids are actually ready for the pros out of high school. Take soon-to-be-top-two-pick Jahlil Okafor for example. In 2010, the then 6'8" eighth grader received a full ride offer to DePaul University. Clearly, Okafor was well above his peers and only needed a couple of years to develop into one of the most dominant players in college basketball this season and will likely continue to do so in the pros.