Titan of the Month: Maddy Eenigenburg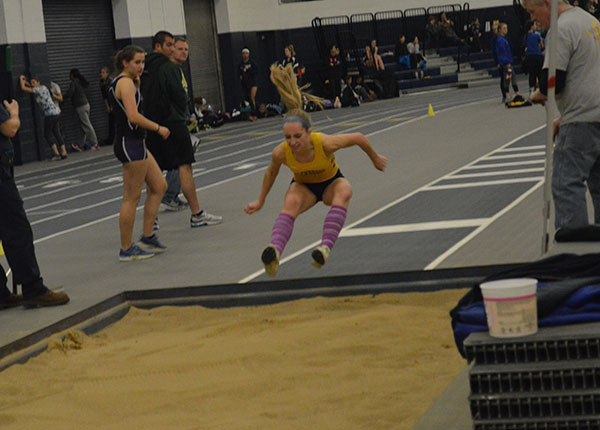 The Oracle's monthly Q & A with an athlete that was nominated by the Sports editors and voted on by South students. 
Junior Maddy Eenigenburg received all-conference last season and also broke the indoor record in triple jump record: 31'9.5. This season she hopes to keep breaking personal records and qualify for State.
What is your favorite part of track?
My favorite part about track would have to be how it's an individual sport when you think of the events, but the whole team works together and supports each other to try to get the most points at each meet.
What advice would you give to other GBS
athletes?
If I were to give advice to any other GBS athlete, I would say to not let obstacles get in the way of your sport. Find a way to work around that obstacle to make yourself stronger for the next time around.
What are your goals for this season?
My goals for this upcoming season are to get new PRs (Personal Records) for my jumps and split times for my relays, and hopefully reach state qualifying distance either this season or the next in long jump or triple jump.
What has been your favorite memory from this season so far?
My favorite memory from this season so far was at our home meet on Friday, Feb. 27 at our annual John Davis Relays. As a tradition, the event leader for the jumpers buys these knee high socks with crazy colors and patterns that we all wear during the meet. It's always a fun time because the other schools at the meet give us the strangest and dirtiest looks because of the socks.
What are your plans for track after high school?
I'll always be active after high school but I will be selecting my college based upon what's best for my career opportunities. If I am offered to compete in college, I may take it. However, triple jump and long jump may suffer a bit since it is not something that you tend to do every day.
Do you have any pre-meet rituals?
As a pre-meet ritual, I always listen to rap music or really upbeat music when I'm warming up or running laps around the fieldhouse.
If you won the lottery what would your first purchase be?
If I won the lottery, I would take a trip around the world, spending a few days in each city I wish to stop at. I have always loved to travel and explore new places.