Swim and dive predicted to continue last year's successful streak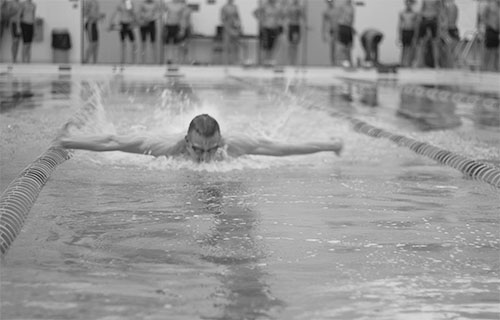 Sam Casey, Asst. Sports Editor
December 19, 2014
The men's swimming and diving team has experienced early success by winning both of their first dual meets and coming in first in both of their invites. The team beat GBN in a dual meet, 115-68. Head coach Keith MacDonald said he has high expectations for the team following their fifth place finish at state last year. 
"We hope to win just about all of our dual meets," MacDonald said. "The one difficult [dual meet] will be [against] New Trier. We've never beaten New Trier. They are a very deep team, [which] presents a problem for us, but our stars are equal if not better than theirs."
According to MacDonald, some of the team's stars include state returners, seniors Jon Salomon and Aaron Ach, junior Sam Salganik and sophomore Sam Iida. At the Arrowhead dual meet, Salomon swam the 50 yard freestyle in 20.96 seconds, which was two hundredths of a second faster than his fourth place finish at state last year in the same event.
"It [was] a little confidence boost," Salomon said. "I did not have the strongest of state meets last year, so it's good to be back at it."
According to both Salomon and MacDonald, they agree that this year's team has more depth than last year's team, despite graduating three state qualifiers.
"Last year's team was fifth in the state, which was pretty impressive, but we believe that we are just as good, if not better [than last year]," MacDonald said.
On the diving side of the team,  Ach came in seventh place last year at state and is hoping to do better this year. According to Ach, he is planning to accomplish this by adding new and more difficult dives in his routine and by being more relaxed at practices.
"Even though last year was a bit of a grace period for me as a junior,who finaled at state and did pretty well, […] this year there is much more of an expectation for me to perform well under pressure all the time, and that obviously includes the state meet," Ach said. "Bearing that in mind, it is equally as important [for me] to have more fun and freedom during practice to try new things."
According to Ach, he is thankful to be part of a team that has so much depth. He is also grateful that the swimmers include the divers as one big team.
"It is amazing for me to feel included in the swimmers' culture, because it is a really tight-knit group," Ach said. "They get up and train harder in the mornings and harder after school than almost any other team […] or club at South. […] [Them] including me as part of that team has actually helped me perform better [on my dives]."
In the GBN dual meet, South won 10 out of the 12 events. At the Spartan Sprint Classic invite, the team came in first out of seven teams. MacDonald is happy with the team's progress so far, but his main goal is for the men to try their hardest at practices so they can be in shape for the end of the season.
"[In meets] we've been swimming relatively well," MacDonald said. "We could do better in our practices. […] There are some guys that are getting a little worn down from the practices and getting sick, and it's just been unfortunate so far that our practices haven't been better."
Over winter break the swim team is going on a training trip in Iowa. Their next meet will be at Evanston on Dec. 19.