Wrestling capitalizes on individual success for conference victories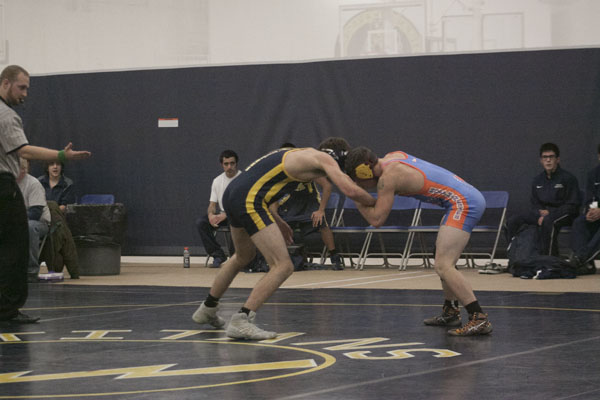 South's wrestling needs to win two conference meets in order to place in the upper level of their conference, according to head coach Thomas Mietus.
On Nov. 26, the team competed in their first meet at home. The Titans wrestled against Hoffman Estates (HE) and Fenton High School. Prior to the meet, senior captain Joey Americus noted that South had wrestled both teams early last season and was confident in the team being able to beat both schools, even though Fenton had wrestlers who competed in the State Tournament last year.
"You can't really look at what [Fenton's state wrestlers] record was" Mietus said.  "It's a different season."
South came out with a win against HE 40-23, and a lost against Fenton 37-17. Senior captain Hagan Synnestvedt said he was very proud of how the team had wrestled in their first couple meets, even though he was absent for some of them.
"We got into it pretty fast and caught on really quick," Synnestvedt said. "We have a really solid team and I think we really bond well, so I think it wasn't hard to get back into the swingsof things. Once we actually started wrestling we realized we are ready, [and] we're looking for a good year."
Over Thanksgiving break, South competed in the Vernon Hills tournament, where they placed second. The team competed against schools such as Taft, Loyola, Maine West, Vernon Hills and Maine East.
"Taking second place at the Vernon Hills tournament shows that we might be able to do more this year than the past," Synnestvedt said.
On Dec. 6 the men wrestled against Niles West, but lost 35-32.
"It was tough," Americus said. "We were one match away from it. Everyone wrestled well and gave it their all. It didn't work out in our favor unfortunately."
Mietus says a personal goal he has for the team is to have a better pinning average. According to Americus, he feels a goal the team has also set is to wrestle hard six-minute matches.
"We don't want to get pinned or have the match end early," Americus said. "Coach Mietus always talks about wrestling hard for six minutes and leaving everything on the mat."
According to Synnestvedt, the wrestling program has been evolving over the last three years since Mietus took the head coach position.
"In the first two years it was developing the system, and getting the wrestlers to buy into it and understand it," Mietus said. "We have a real sound system of philosophy that we follow."
Synnestvedt says that a factor that makes wrestling different from other sports is the one-on-one   compenent in the matches.They gain a team feeling by doing things like going out for dinner after meets and supporting their teammates while they watch each other wrestle, Americus said.
"It's a very individual sport when you're actually wrestling, but everything you do as an individual contributes to the team," Synnestvedt said.
Mietus feels that a reason most people don't do wrestling is because they don't understand the hard work that has to be put forth. Americus said that the feeling after a win is what motivated him to make the effort to do the hard work.
"There's no better feeling [than] when you get your hand raised at the end of a match, and that's what motivated me [to improve]," Americus said.