Men's Soccer finishes season strong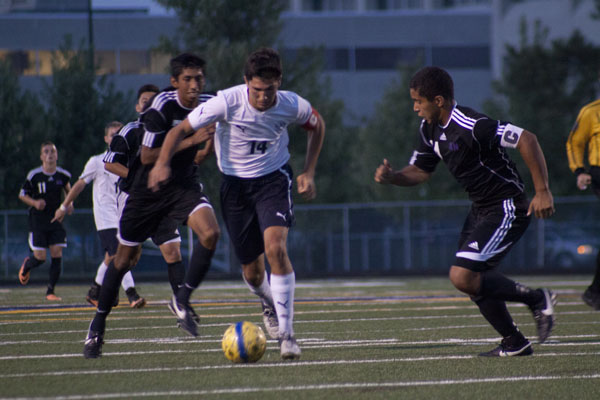 The men's soccer team ended their season with a record of 14-6-4 and second overall in conference.
The team finished their season on Oct. 25 with a 2-1 loss to Maine South in the second round of playoffs. According to senior Captain Luke Pilliod, the team went into the game believing they could beat Maine South, after they were victorious against them on Sept. 17.
"We shouldn't have lost," Pilliod said. "But I don't think we should be disappointed necessarily about the season, more of just the last game."
Pilliod believes the cause of the team's loss was due to the team not thinking about the differences in conference versus playoffs and a lack of control during the game.
"Even though we were up 1-0, we retreated and got scared," Pilliod said. "We could have tried to control the game more and be on top. We weren't the ones who needed to freak out and play rushed."
For senior center midfielder Krystian Szorc, minimal communication and a penalty kick scored against them had to do with the team's loss. Maine South was able to score off of that penalty kick in the last eight minutes of the game to tie it at 1-1. They then scored the winning goal right after.
"Both of those [plays] were like the luck of the draw and accidents too," Szorc said. "It's not like [Maine South] beat us by skill, we outplayed them the whole game. We definitely deserved to win, but sometimes the best team doesn't win and that's how life works."
In the first round of playoffs, South beat Schurz High School 8-0. According to senior Ben Nelson, he felt a key moment in that game occurred in the first five minutes when goalkeeper Perry Adamopoulos came up with a big save.
"I think that [play] really lit a fire under us," Nelson said.
According to senior Omar Duran, he wants the team to also be remembered for their bond on and off the field.
"We had lots of good players and the bond that we shared [we had] freshman year, was something that we always had special," Duran said.
Many of the teammates not only played together freshman year but in younger ages as well. According to Szorc, that bond made losing to Maine South even more emotional, because not only was it the last time playing for GBS, but also with his longtime teammates.
"The soccer team means a lot to me, especially since I've been playing with 12 of them since fifth grade," Szorc said. "I don't have any siblings, so I consider them my brothers and any advice I need I take from them."
Throughout the entire season the team had four losses out of the 24 games played in regular season and playoffs. Senior Sean Alexander feels a reason for the team tying six times is that when the team would play against lower ranked team, they would play down to that team's level.
"We wouldn't get out as hard as we needed to, [in order] to put games away," Alexander said.
Among the team's accomplishments this past season, two others include having a division one player, Kosta Brovic, for the first time in 10 years, and Kurt Roemer being the first All State player in the past five years.
"That shows itself that other teams recognize our skill," Szorc said.
Pilliod believes that the last game against Maine South shouldn't represent the entire season.
"After the game when we lost, our coach gave us an example about how you'll look at the way something ends and think about it at the end of [your] life," Pilliod said. "Like [saying] the end doesn't justify the means. We had a great season, [we] had one of the best records we have had in a while, [and] we had a ton of great players on the team. We weren't dependent on one person, it was a team effort."