Titans fall to Warren in first round of playoffs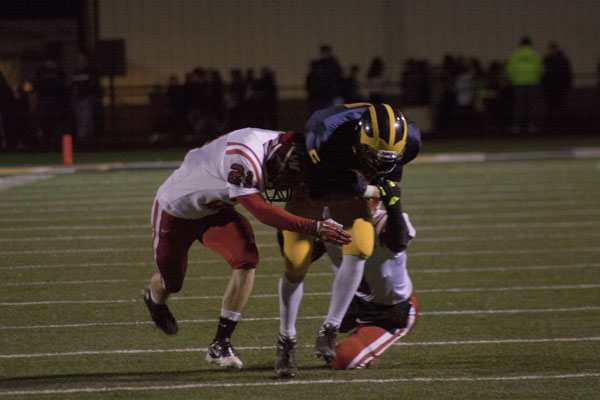 The GBS football team had high hopes for success in their playoff season, according to junior quarterback Fitz Stadler, but their season ended on Nov. 2 with a loss in the first round of playoffs.
The men had started their season with four straight wins, which was one of their goals for this season, according to senior captain Brett Laurie.
"It was really cool because we were the first team to be 4-0 in six years, and overall the team has had a good season," senior captain Johnny Cowhey said.
The Titans had to overcome a lot of adversity this season, according to Stadler; the men have faced challenges such as two losses in conference and injuries among many players.
The loss of key receiver Cody Carroll due to injury had a huge impact on the team, according to head coach Mike Noll. Carroll broke his collarbone when South was beaten by Evanston Township high school, 17-14, on Oct. 4.
"Cody was arguably our best player," Noll said. "You lose your best player, you are going to be impacted."
Senior Paul Jones had been playing in place of Carroll since the injury. According to Laurie, Jones played really well against New Trier in his first game as a receiver.
Noll admired the team's ability to move forward through the tough time in the middle of their season.
"In the football culture you always try to overcome adversity," Noll said. "You get all these things that happen, and you have to find a way to work through them, and I think our kids do a great job at that."
The men were able to take a victory in the homecoming game against New Trier 42-14, which was their first full game without Carroll on the roster.
South was then able come out with a victory on Oct. 19, beating Waukegan 42-6. Before the game, Cowhey said the team needed to be aware of Waukegan's athleticism and running the option scheme.
"We have to be really disciplined on defense and execute our plays on offense," Cowhey said. "If we do everything right we should come out with a win."
While the team had been putting forth valiant effort, Cowhey believes they needed to be more proactive at the beginnings of games and come ready to play with more energy.
"Every game this year we have started kind of slow [with] defense letting up a touchdown or something like that," Cowhey said. "We talk about that a lot and [are trying] to fix that."
The men were victorious against Niles West on Oct. 25, winning 30-20, and that allowed them to have home field advantage during the playoffs.
South was beaten by Warren High School 33-17 during playoffs. The Titans were ahead of Warren 10-7 in the middle of third quarter, but Warren came back and took the game during the end of the third and during the fourth quarter. They ended their season with a final record of 7-3.