Returning players serve as foundation of team success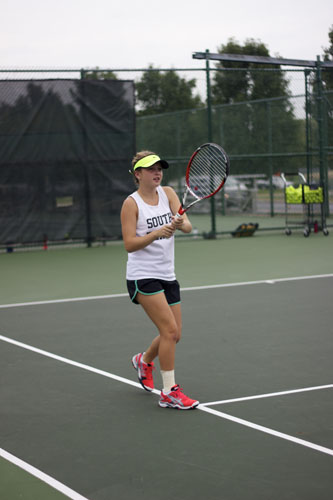 After placing 4th in state last year, the women's tennis team is aiming to place in the topthree in the state this season, according to Head Coach Kathryn Nicolotti. Nicolotti believes that having returning top players such as senior captain Caroline Ryba and junior Annie Emme will both play a large role in achieving this goal.
So far the girls hold a record of 10-2. The team took home a first place win at the Fremd tournament on Sept. 14, in which Emme won in the first singles bracket. The Titans also beat Maine South on Sept. 19, winning all of their individual matches within the overall match.
Another important win the team has acquired thus far was on Sept. 10 when they beat GBN 6-3.
"The girls came out on top," Nicolotti said. "Last year  we were super close with them too, and ended up losing. It was a huge accomplishment for us."
According to senior captain Megan Kay, throughout the heat and rain the team has managed to come closer together.
"We had a big tournament rained out, and you can't really work around that, but that gave us an opportunity to [bond] as a team," Kay said. "It's [also] been really hot, so we just try to drink a lot of water at practice. We had one team actually cancel because it was just too hot to play."
Key members of the team who will be important for the state tournament this year include Ryba and Emme for singles and juniors Martina Dragoytchev and Jessica Chepurda for doubles, according to Kay.
"Having those four girls back is really exciting for the team and hopefully will help strengthen the team for the season," Nicolotti said.
According to Nicolotti, the team has set a lot of goals, as seen on their page on the GBS website. One of those goals includes communication. Kay believes she and her doubles partner, junior Breck Murphy, have been really emphasizing this.
"We always try to pump each other up and have fun because sometimes you just get so down on yourself," Kay said. "We always try to smile, and if one of us gets a bad shot [we] high-five after every point. [We try to] just stay positive, because I feel that has an influence on how you play."
Another goal the team has been trying to achieve is trying to have every player not double fault in at least one match, according to Nicolotti.
"It's more of trying to get the first serve in and if you don't have a strong second serve that you are confident in," Emme said.
South's team also succeeded in raising money for the organization Skin of Steel, a charity that aims to raise awareness and money for skin cancer research. The girls sent a starting goal of $1,500 but exceeded that goal and have raised $2,000 for the organization thus far, according to Nicolotti.
"[The team] ran a 5K [for the organization], and the girls made it their goal to all run," Nicolotti said. "They all ran it, and three of them placed."
Kay believes that in order for the team to be successful this season they will have to bond really well, something they have already been working on.
"At practices we are all making an effort to warm up with different people and [the] older kids are looking to reach down to the freshmen who are on varsity," Kay said.
The girls will be playing a home game against Stevenson today, Oct. 4.