Basketball looks to compete following fresh start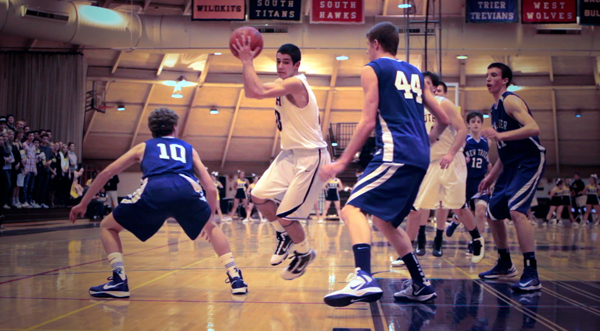 Over the last six seasons the men's varsity basketball team amassed a record of 63-98. As they begin their new season, the men are adjusting to new coach Benjamin Widner while aiming to place top in conference, according to senior Justin Busiel.
According to junior Danny Nikitas, adjusting to a new coach has been difficult, and getting back into the game has also been a challenge.
"I think the beginning of the seasons are always tough," Nikitas said. "We need to get our feet wet, and get used to each other on the court."
According to senior Matt Siegel, he knows the team's greatest strength this season is their work ethic.
"It's a really cool thing to see, when the guys you've been working so hard with at practice, just lay it all out on the floor," Siegel said.
Starting the season at the New Trier Invite tournament, South went 2-2, receiving fourth place. The team lost to St. Ignatius 48-35 and Loyola 64-51, but won against Prosser 53-33 and Hope 49-36.
Nikitas felt the team was lacking in defense vs. St. Ignatius, but felt the defensive transitions improved throughout the tournament.
"We stopped the ball very well," Nikitas said. "It was just the fact that we were very lazy and not really intense, […] maybe it was first game jitters."
Soon after, on Nov. 29, within the last minute of the game against rival GBN, the score was 60-58. Around the 30-second mark, a North player shot a three pointer, giving GBN the lead. GBN went on to win the game 63-60. According to Nikitas, the squad showed a valiant effort.
"We started off slow, so we had to fight our way back into it," Nikitas said. "I think the end of the game was the way it should have been. […] It was a good finish."
With much of the team having had Widner as their freshman coach, the players are familiar with him and his coaching style. However, according to Siegel there isn't a big difference between the coaching techniques of Widner and former coach Scott Nemecek. Rather, it has been an adjustment working with Widner on the varsity level, as opposed to the freshman level.
"There are different styles of basketball, but really it's all basketball," Siegel said.
According to Widner, he shares a sense of familiarity with the team. Also, he feels that a lot of the pressure of the results fall on him.
"I feel a lot of responsibility for the way things go this year and beyond," Widner said.
According to Widner, he is getting to know each player in a new way, and not using past knowledge he has of each player.
"Everybody is getting a fresh look, [a] fresh chance," Winder said. "We want everybody working every day and showing what they can do."
Siegel feels that Widner brings a lot of progressive intangibles to the court as a coach.
"Widner is a great guy and there is a lot of positive encouragement," Siegel said. "It's a great environment to work in."
According to Busiel, he is hoping the introduction of Widner will attract people back to the program and get them excited for the current season. Busiel also wants to showcase a positive attitude and leadership in his role as captain.
"I think [the team] really looks up to me and they look to see what I'm doing," Busiel said. "I try to set a good example and be a vocal leader [on the court]."
With all of these changes, South currently holds a record of 5-4. Over winter break the team will be playing in the Hinsdale South Invite between Dec. 26 and Dec. 28. Conference games will resume in January.