Transition Services help Special Ed. students meet goals after graduation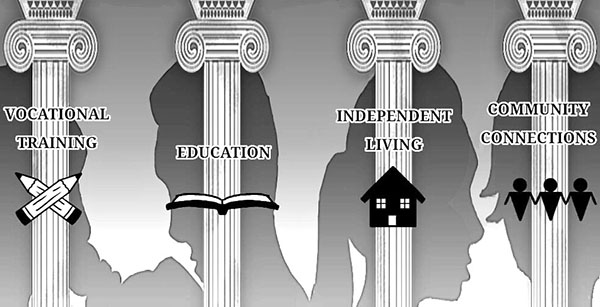 Whether it's becoming financially independent or simply doing your own laundry, adjustment to life post-graduation poses a challenge to every South student. However, for students in the Special Education Department, the district offers a variety of Transition Services to make life easier after they graduate. About 45 students every year participate in these programs to prepare them for future employment and involvement in the community, according to Principal Dr. Lauren Fagel.
Upon enrollment at South, each student in the Special Education Department is given an Individualized Education Plan (IEP) to help them reach their educational goals and a case manager to help track their progress, Fagel said. If a student has not reached their goals by the end of their senior year, they are often recommended to continue in Transition Services in conjunction with other programs. However, in order to still legally receive services from the district, students must receive a "Certification of Completion" rather than a diploma at their graduation, Fagel explained.
"[At South], the goal is to help students be successful at their job," Fagel said. "Transition Services help students be successful in the outside world."
The goal of Transition Services is to provide students with any additional skills they need to enter the workforce, Fagel explained. For most students, they only spend a few hours a week in Transition Services while they participate in other local projects.
"A student can take a class at Oakton Community College, have a part time job, and still receive Transition Services," Fagel explained. "A student could be taking more college classes or be volunteering at a non-paying job and still be receiving Transition Services. It's designed for a wide range of needs."
Transition Services are based upon four pillars: vocational skills, education, independent living, and connections to the community, according to Transitions Specialist Julie Smith. Whether it's engaging in current events discussions or explaining the in's and out's of taking public transportation, all the provided programs are focused around guiding students to become more connected members of the community, Smith explained.
"I think, originally, we started to offer [services to] students who had pretty significant disabilities" Smith said. "Now, we have such a variety of students who use our services. It has really morphed into making sure all students can meet their goals in the community."
Located at 1340 Shermer Road, the Transition Services Center is home to many programs, as well as case managers, that provide the resources for students to reach their ultimate goal of competitive employment, Smith said. Though it was originally designed to resemble a classroom, the building  is now structured to mimic the corporate environment that students would encounter in the workplace.
"[The Transition Services Center] functions like an office space, less as a school building," Smith said. "That's where they can talk with their case manager or meet in small groups. Really, the home base has always been the community."
Smith mentioned that once students turn 22, they are no longer eligible to participate in Transition Services. If they are still in need of further vocational services, they are referred to a variety of other agencies, such as the Illinois Department of Rehabilitation Services. However, the ultimate goal is to provide them with enough skills to take on jobs within the community.
"As far as what we're doing, I think that we are doing such a good job," Smith said. "Our goal is that students can be competitively employed."
However, for Smith and her colleagues, the most important part of Transition Services has been ensuring that every student within the district has the opportunities and the skills to move forward after graduation. Every student's program is optimized to best fit their individual needs and what could be most useful to them moving forward towards the future.
"You see students who you aren't sure will be able to have a job or succeed at college," Smith said. "To see them succeed, with just a little bit of support, has been very, very cool to see."