New security changes implemented at South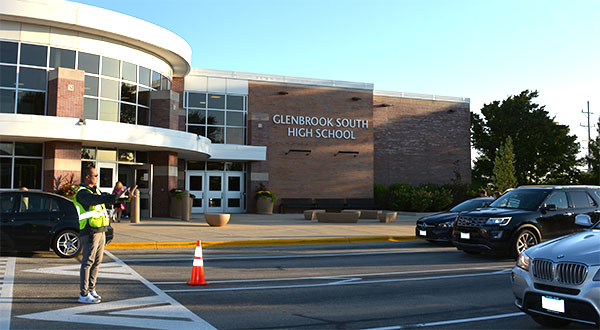 Glenbrook South has implemented several changes to improve security on campus, such as bollards that provide a protective barrier, electronic locks, an ID scanning system, new paraprofessionals and the hiring of Daniel Gorski as the new Security Coordinator, according to Principal Dr. Lauren Fagel.
Many of the security changes are a continuation of a process that began last year, according to Fagel. Policies implemented last year included ID lanyards for all adults in the district, the hiring of Joel Reyes as the Safety and Security Manager of District 225 and an increased number of security guards at South's entrances.
South partnered with ARCON Architects to place bollards that functioned as new seating around the building, according to Casey Wright, the assistant principal of operations.  The bollards provide protection from a car driving into the school as well as seating for students, Wright said.
"A safety and security team talked about ensuring [that the bollards had] a dual purpose, to make sure we could accommodate students and have additional seating, as well as strategically placing them to be a secure barrier in front of the building," Wright said.
New electronic locks on classroom doors were added, Wright explained, and now there is a master switch that has the ability to lock them all at once from within the Plant Operations department, which oversees South's facilities. Now, anyone can lock the doors from within a classroom, while previously they had to be locked with a key from the outside.
"One of the things we heard from students and teachers [was when] we are in a situation where we need to secure a room, you would need to go outside with a key, lock it, and then close the door," Wright said. "[Now], from inside a room [someone] can press the button to either lock it or unlock it."
Another security change was the hiring of Gorski to fill the previously vacant position of Security Coordinator, Fagel said. One of the main elements of Gorski's job is to coordinate the movements of paraprofessionals, or parapros, around the school.  Paraprofessionals are security personnel employed by the district, Gorski explained.
"The paraprofessionals [previously] fell upon the deans to manage," Gorski said. "They had to do their duties plus [what I do now]. As the times changed, and [security] became more important, it couldn't be done by them. So that's why they made [the decision] to hire outside."
Some parapros are now stationed at fixed points that students tend to go through, while other parapros roam around specific sections of the school. This was only made possible by the hiring of two new parapros, Gorski said.  Parapros at both Glenbrook North and South are also now required to wear a shirt that identifies them as security personnel, according to Gorski.
"No matter what we do, I think we can always do it better or more efficiently," Gorski said.
Students that leave the campus for open lunch are now required to scan their ID's upon exiting and entering the building, according to Fagel. The scanning system allows the administration to quickly become aware of which students are not in the building at any given time.
"We now have an accurate record [of students who are off-campus], because before we never knew who was out of the building," Fagel said. "We might know on your schedule that you have open lunch, but I don't know that you left."
An important consideration when discussing potential security changes is the impact that those changes might have on students' experiences at school, Fagel emphasized. She elaborated that she wants South to feel like a second home, while also keeping students as safe as possible.
"With all the changes we make, we always talk about what the impact on students' lives [will be], and particularly how the students will feel when they're here," Fagel said.