District adopts new Transgender Policy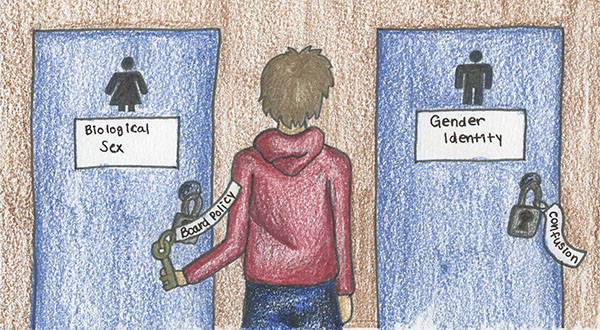 On Monday, January 22, the District 225 board of education passed a new policy regarding transgender students within the district. According to Principal Dr. Lauren Fagel, the new policy allows transgender students to use the bathrooms and locker rooms of the gender that they identify as.
According to Fagel, the policy itself will not change any of the prevailing procedures already taking place at GBS, but it was created to affirm such procedures.
"If they're a transgender student, they can use the bathroom and locker room of the gender they identify as," Fagel said. "We work with students on an individual basis, we honor their preference of name, we use their name in PowerSchool if it's a preferred name with parent permission, they can take the PE that corresponds with the gender they identify with. None of that is changing; the difference is now the policy will actually exist, because it's brand new, and it will support those practices."
In a statement released by the District 225 School Board, Superintendent Dr. Mike Riggle adds that the policy will also provide teachers at South with a structure within which to operate.
"[The policy] provides our staff with a framework for decision-making as they work with students and their parents on a case-by-case basis," Riggle said. "This ensures that students' rights are respected and the expectations of privacy are properly addressed."
The policy itself states that its purpose is to prevent discrimination against transgender students and promote comfort among all students within District 225. The policy attempts to do so by enforcing the same dress code, restroom and gender-divided activity rules for transgender students based on how they identify.
Such a policy is new, not just to South, but to most schools within the area, according to Fagel.
"This is a brand new board policy for transgender students, and we are very much on the leading edge of having a policy," Fagel said. "There are a few districts [which have a policy], but most in our area do not. They might have the same practices, but they don't have a written policy."
Though the board passed the policy unanimously, it was not done so without debate. The board meeting in which the vote took place was also attended by supportive and concerned adults. One of the latter was Pete Stematus, who voiced concern over legal repercussions that the district could face.
"If the district passes this policy, there's no telling what kind of litigation could happen," Stematus said. "I could imagine numerous scenarios where this policy will go to court. All this is costly; these kinds of legal fees would go well into the six-figures."
Stematus went on to cite pending court cases regarding schools and transgender students, and suggested that the board wait for the cases to be decided before passing a transgender policy. One of those cases was the Palatine High School case, which was decided on Thursday, Jan. 25. The decision ruled against transgender student Nova Maday in a suit against her school for unequal access to the girls' locker room.
Superintendent Dr. Michael Riggle, however, is not concerned about any interference from any recent court cases like that of Maday.
"The District 225 policy is consistent with all current legal requirements and precedent from court rulings including the recent Maday decision," Riggle said. "The policy is also consistent with the Board of Education's commitment to the safety and well-being of all students."
Another concerned attendee was Brendan Appel, who was worried for the comfort of his daughters, both students within District 225.
"The policy so far fails to take into account the interest of, for example, my girls, who don't want to dress in a locker room with boys," Appel said. "I think that's a fair interest to be taken into account, but it hasn't been so in this case. I do support the district's efforts in forming a policy for transgender students, just not this specific policy."
SAGA co-sponsor Matthew Bertke feels that the intent behind such a policy, to support transgender students, is more significant than the uneasiness that others might feel with its passage.
"This is a group of students who are experiencing a level of inner turmoil that most of us will never know," Bertke said. "To give those students a glimmer of acceptance and to tell them that they matter is extraordinarily powerful. Much more powerful than any level of slight discomfort that others might feel."
Though the policy does not change any of the prevailing practices at South, Bertke says it's important to pass a policy to tell transgender students at GBS that they're included.
"I think it's critical because it tells the students that are transgender that they are valued and they matter," Bertke said. "Even if it's not changing direct policy, it's telling a group of disenfranchised youth that they are worthy and that speaks volumes."