Titans Helping Titans assists fellow students in need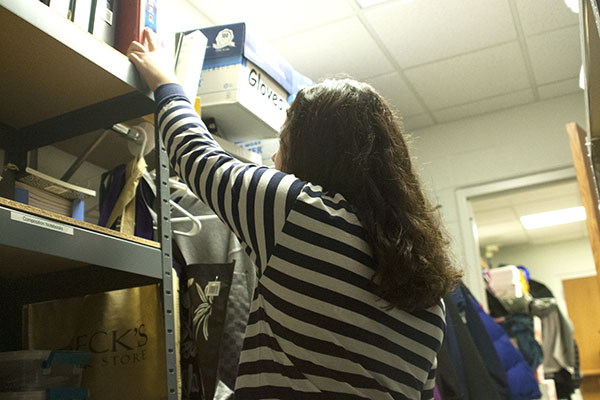 The implementation of Titans Helping Titans (THT), a program created to spark a sentiment of compassion and service- oriented awareness among fellow GBS students, has proved seamless and continues to showcase its success through the three events hosted thus far, according to Josh Koo, assistant principal of student activities.
According to Principal Dr. Lauren Fagel, the first event, the School Supply Drop, will collect donations in the SAO until the end of the year. Meanwhile, 70 students utilized the "Formal Wear Swap," which offered students the opportunity to bring in formal wear for other South students to use for the Homecoming dance. Additionally, 110 students utilized the "Winter Clothing Drive," Fagel explained.
"We are thrilled, especially because it's just the first year, but we are learning as we go," Fagel said. "One thing we learned was that corporations like Target, JCPenney, and Kohl's are very willing to partner with schools to make sure that families have the winter gear [and other supplies] that they need."
Science Teacher Cheryl Simon, who first introduced THT to Koo and Fagel, felt that the many existing efforts to meet basic needs of students lacked cohesion and that the umbrella term, "Titans Helping Titans," would best unify these individual projects. Simon's observation of an increased trend in student financial need at GBS compelled her to strengthen the amount of aid the school can provide to match the rising demographic.
"More GBS families experiencing financial challenges which obviously translate to the students through their success and their sense of belonging in the building," Simon said. "Since I got here, [the demographic] has changed pretty dramatically and we are predicting that this trend might continue."
According to Koo and Simon, maintaining a trusting and safe environment among those who utilize THT's services and donations is emphasized above all else.
Koo said, "With the Winter Coat Drive, we had a lot of students who weren't officially classified as having financial hardship that took some stuff because it could really benefit them. There's that middle ground where a student is not technically classified as that but their parents may work a lot to make ends meet. It is not exclusive, nor is it an opportunity to segregate per se    ; our end goal is to provide all students with equity."
The message of THT resonates with senior Julia Jakubiak, who donated to the Winter Coat Drive, and encourages other GBS students to get involved as well, no matter how seemingly small their contribution may be.
"I've grown up in a household where finances were often a sensitive topic, so I definitely had a personal connection with the programs, but I also thought of the upcoming holidays and used this as a motivator to spread cheer and kindness through my actions," Jakubiak said.
According to Fagel, a committee of 15 to 20 GBS staff members volunteered amid the creation of the program and have been instrumental to the success of the first three events.
"A lot of things [like THT] have already been in place at GBS," Fagel explained. "For instance, if kids express their needs to their counselor or if they are worried about their family having enough groceries, we had a process where we were able to provide some gift cards, but we never had anything formalized to ensure all of our students have the essentials."
Jakubiak explained that there are more students in need than typically expected and that the convenience and gratitude one gains from helping out a peer will eventually result in an increased number of contributors to future events.
"Whether we notice it or not, there are a lot of people at GBS who are struggling financially, some of which might even be our own friends or classmates," Jakubiak continued. "The initiatives are easy enough for us to get involved and the impacts spread beyond the doors of our school and into the community."