Community reacts to student protests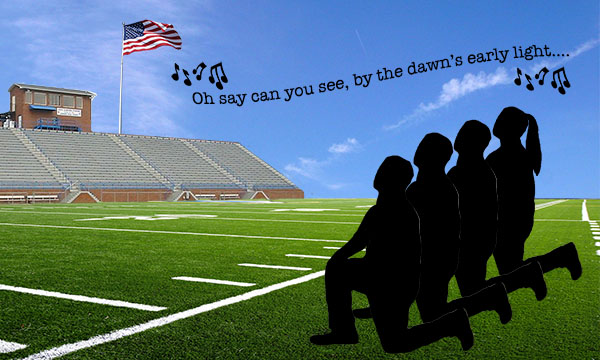 After members of the marching band and cheerleading squad knelt during the national anthem at the home football game on Sept. 28, anonymous community members have reached out to the school in reaction to the protests.
An anonymous letter titled "$Boycott South$" was sent to administrators, the Board of Education, and several community members, according to Principal Lauren Fagel. The letter mentions how the students who knelt "disrespected their uniforms" and "companies will severely restrict donations" to GBS. Betsy Baer, executive director of the Glenview Chamber of Commerce, says the Chamber has no association with letter and was disturbed by what it claims.
Fagel said, "Not only is the person [or people] a coward for not signing their name, but they also don't want to call [the protesting] what it is, which is making a cultural statement. The fact that they want to punish [South] for something that the students have a constitutional right to do is infuriating."
According to Fagel, the letter contains false information and will not make a difference to students' right to kneel going forward. Regardless of the letter, no student will be forced to resign from their respective team based on a peaceful protest, Fagel says.
"I would tell [students] not to feel threatened by someone so cowardly, and that they are so much braver than the people or person who wrote this letter for thinking and caring about what's going on in their own country," Fagel said. "I think that is most important for students and not to let anything like this stop them."
According to freshman Mia Marchiori, though students are protesting for issues that they think the country hasn't been addressing correctly, the media paints an untrue picture of police officers who risk their lives for the country. Marchiori believes that she would still have been against the protest, but would have understood the student body who knelt more if they had chosen a different way to protest.
"I don't agree with kneeling during the national anthem because it's disrespectful," Marchiori said. "But if it was [a] peaceful protest with a petition with signs and posters than that's fine."
Junior Quinn Toomey believes kneeling during the national anthem is a peaceful protest that anyone can take part in. Though protesting at South doesn't make as much of an impact as it would on a national level, Toomey says protesting students are showing support for protest against police brutality against African Americans.
"The point of the protest is to advocate for the people who want equality, especially African Americans, and it's an issue that needs to be addressed," Toomey said. "They could [protest] a different way and they would have just as much hate, or just as much support."
According to sophomore Isaac Singh*, although the administration was correct in allowing students to protest during the home football game, they didn't handle the rest of the situation correctly. Singh believes that because South students live in Glenview, they don't understand the effects of racism and police brutality.
"These are North Shore kids, and they don't identify with the struggle that the NFL players are protesting for," Singh said.
Despite the reactions, Fagel says she is proud of the student body for knowing current events and feeling that the issue is worthy of protest. Senior Edwin Baik agrees with Fagel that South is not only a place where students can practice their first amendment rights but also a place where everyone is welcome.
"Our school does a good job of respecting everyone and encouraging everyone to respect each other despite race or ethnicity," Baik said. "But as a nation I hope this is a process that will bring us one step closer to finding racial equality."
*Name has been changed