ADL recognizes Kim for social justice, heritage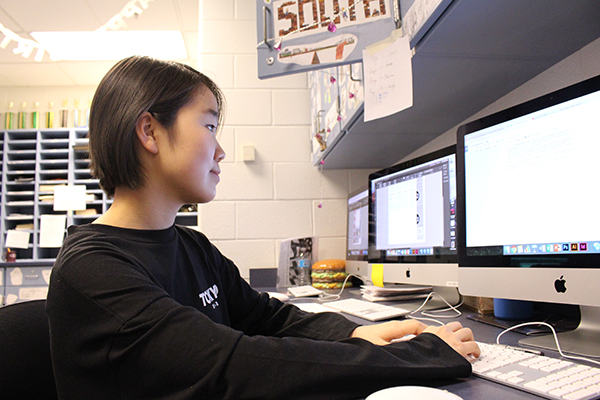 This past November junior Gina Kim was the first place recipient of the 2016 First Amendment Freedoms Art and Essay Contest for the Anti-Defamation League (ADL) in which she was awarded a $5,000 scholarship towards higher education.
Kim, reflecting on her dual upbringing, said the integration of Korean and American cultures has made her an increasingly mature, open individual.
"I think being raised with two very different cultures—one western, one eastern—really gave me two different perspectives with which I could approach life," Kim said. "I had a lot of the traditional values of Korean culture but at the same time, those history-appreciating, tradition-based customs also meshed with the more progressive, more open-minded and diverse culture of the United States."
Passionate about social justice and her heritage, Kim decided to submit to the ADL's First Amendment Freedoms Art and Essay Contest where she channeled her interest for a particular part of history. According to Kim, her older brother had been the second place recipient of the same contest five years prior which inspired her to take on the same challenge, but in her own way.
"For me, it was a more personal endeavor because it was manipulating the idea of the First Amendment and putting that towards me as a Korean woman," Kim said. "In my essay, I write about how the First Amendment allows me a voice and a platform to talk about historical, social issues that have yet to be resolved."
The particular issue Kim references in her essay is Japan's use of comfort women during World War II. Throughout the piece, Kim draws attention towards this seemingly erased component of history.
"It's a heavy topic," Kim said. "It's very stigmatized, especially in Korea. It's a big part of Korean history that's silenced because women in Asia still live [in] a very traditional society and sexual assault and sexuality are considered a taboo topic."
Kim's English teacher, Stephanie Bailey, is a large supporter of Kim's work. Bailey, having read Kim's winning composition, says she was enthralled by the piece.
"It was amazing," Bailey said. "I was amazed because number one, she writes about [comfort women] so beautifully, [so] passionately. […] Her writing educates people."
Bailey notes that Kim's capabilities are not exclusive to paper.
"[Kim's] not only skilled in the craft of the writing and expression, […] she is deeply compassionate about a lot of things and a lot of topics," Bailey said. "She is knowledgeable about different topics and politics and education and history […] with those attributes, she is a very good writer."
In addition to Kim's writing endeavors, she has also founded the Korean American Butterfly Team, a student-led organization that aims to draw awareness to the comfort women movement.
"[The] butterfly is a symbol derived from the comfort women movement because [it] symbolizes […] a feminine freedom from a history of oppression," Kim said.
On top of art exhibitions and street concerts, Kim and her team helped Illinois State Senator, Daniel Biss, pass a resolution making it possible for Illinois textbooks to integrate the topic of comfort women into the study of WWII.
"It's a lot about getting the Korean community and getting the Korean youth involved in their history and bringing their heritage and legacy to the present," Kim said.