Prevalence, availability of e-cigarettes presents security concern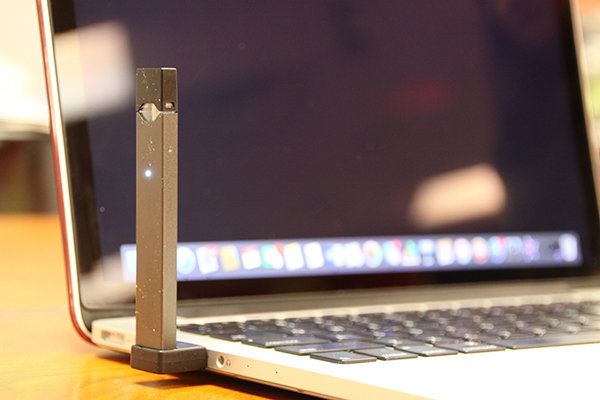 The use of electronic cigarettes (e-cigarettes) at South has increased among the student population this school year, according to Dean Ronald Bean.
The cause of the increase in e-cigarette use is currently unknown, according to Bean, but is evident in the number of incidents this year. Bean says the Dean's Office has dealt with more of these occurrences in the last months than collectively in his career at South.
"In the first eight years that I've been here we may have given […] two or three [tobacco violations] a year," Bean said. "We're at a point now where I had two violations […] in one day."
According to a unscientific Oracle survey of 276  students, 78% saw an increase in the use of these devices at South. Junior Jacob Bradley*, a Juul user (a popular e-cigarette brand), attributes the rise of use at GBS to its overall increase across the North Shore over the summer. However, he says he does not agree with students who bring their devices to school.
"I think there's this really stupid culture behind Juuling at school where they think they're [cool] because they [use them] at school and make it noticeable to everybody," Bradley said.
Students have been caught smoking in a variety of environments, according to Principal Lauren Fagel, such as in classes, the Student Activities Center and the hallways. The new form of e-cigarettes makes it easier to be used in school than in the past.
"The blatant smoking in class just blows me away," Fagel said. "It is so audacious and it used to not be possible [for it] to go unnoticed. You couldn't light up a cigarette […] without [someone] noticing, but now you can."
Freshman Gavin Leahy says that this increase in use negatively affects the school environment, explaining that Juul use creates an unsafe environment that both distracts from learning and creates an opportunity for more harmful decisions in the future.
"I know [that…] I've gone into the bathroom [multiple times and] people have just been [using their Juuls]," Leahy said. "When they have something in their pocket that they can just […] go and use, [… it] isn't a good idea."
Defined by Board Policy 8430 in the GBS handbook, the violation occurs with the "use, possession, or distribution," of any tobacco or nicotine product on school property or at any school-sponsored event. Bean says student use of these devices also goes against the ordinance of the Village of Glenview and is unacceptable.
"It is our responsibility to continue to enforce the school code and the Village of Glenview," Bean said.
"Our Board of Education has been very clear about what their expectations are in terms of students, […] so we will continue to [carry out] those expectations."
Included in this enforcement are the School Resource Officer and passive video surveillance, according to Bean. The officer position, previously occupied by Officer Mike Meier for twelve years, is filled now by Officer Reuben Medina.
"Earlier [this] year, there were discussions between the school and the Glenview Police where we talked about the benefits of the position [and] rotation [of officers], and decided that we would open the position up to other officers in the department," Bean said. "There was an interview process and Officer Medina was chosen as the best fit for the position."
According to Bean, there are currently signs indicating passive video surveillance. These are part of the school's overall safety plan.
"We do not have a person that sits in a room and monitors the cameras all day long," Bean said. "If there is an incident, we go back and review that footage to try and see what happened."
Fagel also said that if the Glenview Police Department saw the need, she would not oppose them taking additional measures such as driving outside during open lunch to ensure that students are not using that time to smoke. However, she believes that regardless of how many school rules are in place, some students will continue to use their smoking devices.
"[Students] are going to find a way [to smoke] no matter how many people we have [or] how many rules we have," Fagel said. "It's usually only when they [face] the consequences, which are pretty severe, [that they] say, 'Maybe I shouldn't be doing that after all, or maybe I shouldn't be doing that in and around school."
According to Bean and Fagel, Bean sent out an email to teachers after winter break to alert them of the issue. He attached a photo of a Juul and told faculty to alert the Dean's Office if there were any cases that involved one.
"I think that [teachers] are becoming more aware [of the topic]," Bean said. "As we collect information, we're sharing that with [them]."
Bradley, who himself opts to not bring his Juul to school, says that he has friends who smoke in class. While a few members of faculty have noticed, most are not too aware of how prevalent the trend has become.
"If you know your teachers are going to see you [use a Juul but] they don't know what it is, [students will use them]," Bradley said. "I've seen people charge their Juuls in class because teachers [didn't] know what […] they [were]."
Leahy agreed, saying that his personal experience of seeing students use these devices mean that the school should be stricter on its users.
"I think that [Juul users] are not being caught because […] I see a lot [of kids using them]," Leahy said. "So, I think that the rules should be enforced [and] should [be enforced] a little stronger."
According to Fagel, the use of these devices is troubling because they create a more unsafe environment.
"Obviously [e-cigarettes] presents a safety hazard at school," Fagel said. "If the word on the street is [that] everyone at GBS is doing drugs in school, that doesn't feel safe. When people are under the influence of drugs, they don't behave in a way that they normally would."
*Name has been changed