South hosts Glenbrooks Debate Tournament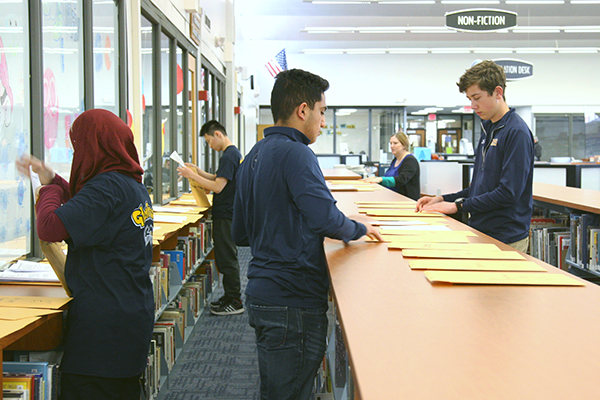 The South Debate team helped to host the Glenbrooks Debate Tournament at South over the weekend of Nov. 19 through 21. The tournament also took place at Glenbrook North, Maple Middle School, Attea Middle School, and the Renaissance North Shore.
According to Jonathan Voss, head debate coach, the yearly tournament hosts 13 different events, including policy debate, Lincoln-Douglas debate, congressional debate and various other speech events. Almost all the rooms in each of the venues were used.
"We are the largest speech and debate tournament hosted by a high school in the country and one of the three largest academic competitions in the U.S.," Voss said.
In total, the 2016 tournament consisted of about 3,000 students and if staff and chaperones were factored in, the numbers could amount to more, according to Voss. The tournament hosted competitors from 43 of the 50 states, with additional students traveling from Taiwan, China and South Korea to compete at the Glenbrooks Debate Tournament.   
"[The Glenbrooks] is by far the biggest [tournament] that [the GBS debate runs] and that's kind of by design," Voss said. "The parents and the kids put so much work into this [tournament]."
After the tournament, there was another competition for the top seven policy debate teams in the country, Tara Tate, assistant debate coach and debate teacher, said. The Glenbrooks Round Robin occurred two days following the weekend events and took place at the Renaissance North Shore.
"With the Round Robin [competition] you debate everybody that is here and it's a very intimate setting [because] every debate that you have is obviously super rigorous because you're debating the other top six teams in the country," Tate said.
Students such as senior Alex Velis, student congress debate president, worked at the tournament. According to Velis, there is a huge amount of support from the surrounding community to help make the tournament happen, including parents volunteering their weekend time and various restaurants donating food to be sold at concession stands.
"[The Glenbrooks are] great [because] it's like a big operation," Velis said. "There are all these different types of kids coming from all different backgrounds and they come here to debate. […] It's a nice way to connect to the debate community."