Students For Students revamps club philosophy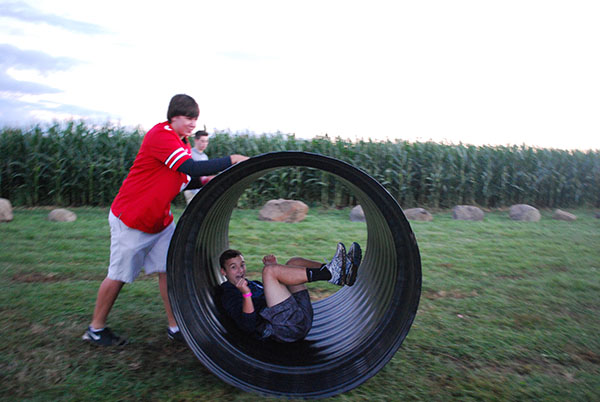 In its 20th year at South, Students for Students (S4S) is striving to rebrand itself as a drug-and-alcohol free club for students seeking substance-free social outings. According to sponsor Megan Shipp, S4S has realigned its mission statement, pledge and outlook to adapt to the ever-changing lives of high school students.
Shipp emphasized that choosing to use drugs or alcohol is a decision that high school students should not be making in the first place.
"There is still a legal age limit because choosing to do drugs or alcohol is a very adult decision," Shipp said. "Altering your frame of mind is an adult decision. I want to encourage students that while they have the time and while they're still in high school [they should] have fun and make [age-appropriate decisions]."
In past years, club members had to pledge to abstain from drugs and alcohol for the entire year, whereas now members can set their own goals according to their situation and can make a pledge for shorter duration, which Shipp hopes students will choose to renew. Shipp says this change is indicative of the club's attempt to reach out to more people. She hopes this change will encourage more students to try the club and a drug-and-alcohol free lifestyle, and as a result encourage more students to make a permanent change.
"People talk about experimenting with drugs and alcohol, but I want students to know that they can experiment with not using them ," Shipp said. "Students should see what they're able to achieve, the kind of difference [not using] can make in their lives, academically and health-wise."
Senior Isabel Spingola, S4S co-president, and Shipp say that the club's new name is to call more attention to the revised intentions of the club.  Also, it emphasizes that the members of the club are there "for" one another in order to encourage each other to fulfill their pledges.
"While the founding principles of the club are still intact, the change from S2S to S4S is [also] due to the fact that this revamped version is twice the fun," Spingola said.
According to senior Jack Whetstone,  S4S team director, the club is also trying to reach out and acquaint themselves with the community.
"I think reaching out is a great idea because it will get the club's name out there, as well as give people an opportunity to get [involved in] the club without necessarily making a commitment, but rather doing something for others," Whetstone said.
Dr. Jim Shellard, assistant principal of student activities, has noticed an increase in the discussion of drugs and alcohol among teens over the years but thinks that S4S will play a key role in deterring some students from giving into that lifestyle.
"[The new system] offers positive peer pressure, in that, it puts people who may have used before in contact with people who don't use," Shellard said. "So instead of being ostracized for previously drinking or doing drugs, students are being given an opportunity to participate in social events that don't involve [those temptations]."
According to Spingola, S4S has also been a great opportunity for students from various backgrounds and interests to create meaningful friendships.
"I've learned how much fun I could have in high school without the use of drugs and alcohol, and I've met so many people and developed so many strong relationships with other club members that would be difficult to make in any other setting," Spingola said.