South welcomes new faculty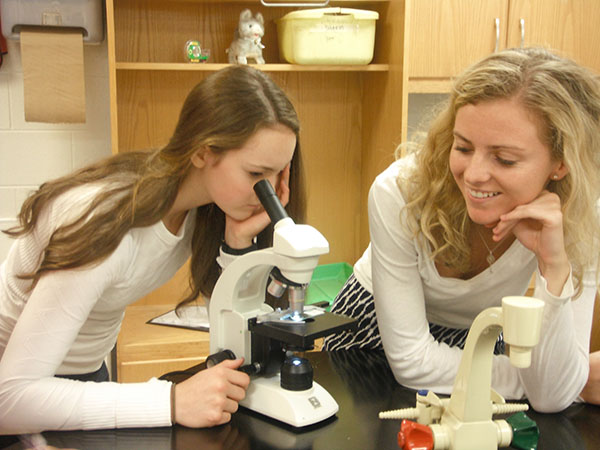 Freshman and transfer students are not the only ones adjusting to the new environment  of Glenbrook South.
Along with the new 2016-2017 school year, according to the GBS website, 20 new faculty members joined South students on their first day at school.
Jeannie Logan, the new Social Studies Department instructional supervisor, had previously taught social studies at New Trier for 17 years. According to Logan, she decided to interview for the job when she realized she was passionate about working on curriculum and collaborating with other teachers.
"When I first started, [I felt pressured] because it was a new role and a new school," Logan said.  "It's hard enough to learn how to fit into a new school. It's also really hard to learn how to do a new job. Both of those things together felt pretty daunting in the first few days, but everyone was so helpful."
According to Logan, Terrence Jozwik, former Social Studies Department instructional supervisor, helped her with the transition.
"[Jozwik] helped set my expectations for the teachers here," Logan said. "He told me that they were incredible teachers, [and] that they are very passionate about what they do. That really helped me come in knowing that they already had my respect. He said they were very excited to have me, so I think that really helped build the relationship from the get-go."
On the contrary, new biology teacher Madeline Thomas was unfamiliar with GBS before applying for a teaching position.
"I randomly applied here," Thomas said. "I had never heard of GBS before, but I saw that they had a science position opened, and so I applied and when I came here for my very first interview, I knew I loved it right away. […] As I went on in my interview process, I learned more and more about GBS and just fell in love with it."
Jacqueline Blanchard, first-year dean, recalled how she felt welcomed by both the students and the staff on her first day at GBS.
"I had a lot of students that said hello even though they didn't know who I was," Blanchard said."There was a lot of staff coming up and introducing themselves to me. The only thing I was nervous about was remembering everyone's names because that was the hard part."
Thomas felt nervous for the year ahead. Yet, the preparation the school gave her and the support from her department eased her worries.
"[…] I felt very nervous [on my first day]," Thomas said. "But our new teacher orientation really prepared me so I never felt overwhelmed. My Science Department stood by my side the whole way on that first [day], and even up until now they still do."
Despite the mixed feelings the new faculty members experienced when coming into the new school, many, such as Thomas, realized how welcoming and exciting GBS is able to be.
"During the institute days, the superintendent ran out as if he was a Pokémon and some of the teachers pretended to play Pokemon Go with him," Thomas said. "It gave us new teachers a good look at how GBS is very welcoming […] and [working at South] can be  very fun."
Furthermore, the new faculty members have set personal goals for themselves to achieve in the course of their years of employment at South. According to Blanchard, her goal is to continue to get involved in the school and to build relationships with colleagues and students.
"I hope to be able to build a rapport with students and staff," Blanchard said. "[I want to] get to know students, be involved, be present. I want to go to activities and athletics after school. I want to be someone that students feel like that they can come to when they need to talk."
As for Thomas, she hopes to work with and provide many opportunities for her students, and work together with her students.
"I expect to create a classroom environment that is welcoming and safe for all students where they can feel like they have every opportunity open and available to them," Thomas said. "And I want my students to feel that we're all going to learn and grow as one together and as one community rather than [separate]."