Model UN: GBS MUN awarded national title at high school conference in New York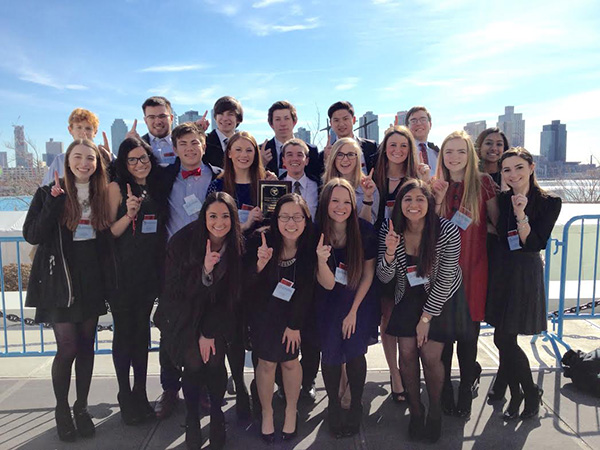 The GBS Model United Nations (MUN) team won the Award of Distinction at the National High School Model UN conference at the United Nations Headquarters in New York, March 5, according to MUN President Grace Kilpatrick.
"Determining the best team was based on who—across the board—showed the most diplomacy, interacted the most in committee, spoke with poise and elegance and really represented themselves not only as a country, but as a person as well," Kilpatrick said.
According to MUN Sponsor Terry Jozwik, 3,800 students attended the conference representing 135 schools and 36 countries. Of these schools, only one other won the Award of Distinction. The leaders focused on making the conference a learning experience for all delegates, rather than focusing on its competitive nature.
"[The students] were exhilarated," Jozwik said. "They were well prepared. We've had wonderful success this year. We were going to New York knowing that we were good, and everybody was so unbelievably focused."
According to Kilpatrick, the team values cooperation and integrity above all else. Others, such as the Secretary-General, recognized the team's character diplomacy.
"I think, without a doubt, the memory that sticks out to me the most is our last night before leaving," Kilpatrick said. "We always do this thing where our whole team gathers in a hotel room and we play hot seat or a bonding activity, just to get to know each other."
One night, team members voiced their appreciation for one another and seniors reflected on their MUN years.
"My favorite part about Model UN [doesn't have anything] to do with Model UN," Steffel said. "It's just how close everyone is on the team."
According to Publicity Chairperson Yoana Sidzhimova, the delegates gathered on their own time to work on forming solutions for the conference.
"We have a lot of freshmen with a ton of potential," Steffel said. "We are losing a really strong senior class [at the end of this year]. I think the goal is always to develop the younger members of our team. This year, they even won awards and were so enthusiastic and strong."
Sidzhimova says the team was motivated to do well at this conference. Delegates continued to dedicate time to research in order to be well-prepared for debate and discussion with other delegates at the conference, Jozwik says.
"Our reason for being there was not to see the Big Apple," Jozwik said. "It was to really throw ourselves into the conference and do as well as we could. Their effort was unbelievable."
Eight members of South's team spoke at the closing ceremonies of the conference: seniors Anushka Haldar, Gabbi Cozzone, Grace Kilpatrick, Scott Okuno, Cameron Beach, Julia Sonnenfeld, and juniors Audrey Brown and Lori Steffel.
"It felt like everything that I had done in preparation and all of the stress, anxiety, emotion and excitement that had preceded the conference was all compiled into that moment," Steffel said. "It was rewarding not only to be speaking in front of the United Nations General Assembly, but also to be doing it with one of my best friends, [Brown]."
According to Jozwik, the team's work ethic separates them from other teams.
"Everybody came back exhausted," Jozwik said. "It's kind of like in athletics, when you put your all into something, you should be tired at the end."