Slashed food stamps may increase demand for local food pantries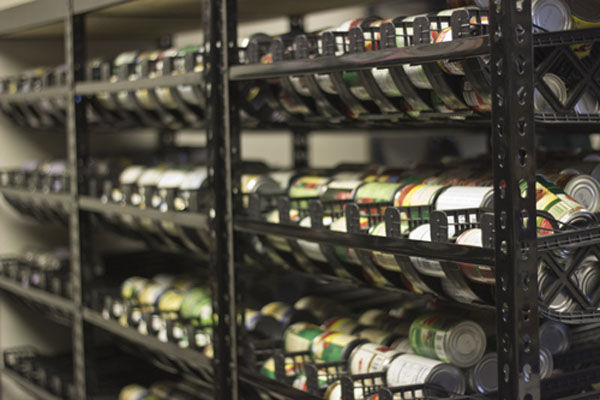 Federal funding for the Supplemental Nutrition Assistance Program (SNAP), commonly known as food stamps, decreased on Nov. 1. Eligible households now receive less monthly assistance from SNAP.
Two million Illinois residents receive assistance from SNAP, including residents of Glenview and Northbrook, according to the Chicago Tribune. The cuts are the result of an expiration of the additional funding SNAP received from the American Recovery and Reinvestment Act, President Barack Obama's 2009 stimulus package.
The goal of the 2009 increase was to help combat the effects of rising unemployment during the recession, and recipients of SNAP received an 13.6 percent increase in monthly benefits, according to the Center on Budget and Policy Priorities.
According to Barbara Marzillo, South's head nurse, definite need for food currently exists at South.
"We do still have students who come into our office who truly are hungry," Marzillo said.
According to Feeding America, a non-profit organization that oversees food pantries, the average family of four will receive a cut of $36 per month. This will leave SNAP receivers to average $1.40 per person, per meal, according to the  Center on Budget and Policy Priorities.
According to Jill Brickman, supervisor of the Northfield Township, this reduction could make a big difference to a family already on a tight budget. Part of the difference will be seen in the quality of food SNAP recipients are able to purchase.
"Trying to eat on [food stamps] for even less has all sorts of repercussions," Brickman said. "And it's not necessarily that they're hungry, that they're literally not getting food, but they're sluggish and they have trouble paying attention because their nutrition can't be as good with that sort of reduction."
The SNAP cuts could potentially lead to an increase in need for the Northfield pantry, according to Brickman. They currently have 702 households certified to receive assistance from the pantry, an elevated level from the past.
"This year and last year were fairly steady, but over time it has tripled," Brickman said. "It's been dramatic. [The recession] is when we started seeing the big increases."
The pantry has changed to accommodate for the economic realities, including shifting qualifying requirements to allow any family that qualifies for free or reduced meals in the area's schools to automatically qualify for use of local food pantries. Currently any household receiving SNAP aid qualifies to receive free and reduced lunches, according to the National School Lunch Program. South Principal Dr. Brian Wegley said there has been an increase in students using the free and reduced meal program, from 13 percent before the recession to 20 percent today.
There could potentially be greater cuts to SNAP in the future, according to the Greater Chicago Food Depository (GCFD). Congress is  negotiating a new 'farm bill,' which determines agriculture and food stamp funding. The bill will potentially be approved in January. The bill could contain anywhere from $4 billion to $40 billion in SNAP cuts over the next 10 years.
Paul Morello, public relations coordinator at the GCFD, said that any additional cuts to SNAP would have a significant negative impact on hunger nationwide, because they are "the first line of defense" against hunger.
"If there was any cut to SNAP on top of what we've already seen, it would be absolutely devastating," Morello said. "The bottom line is, the private response to hunger, not only in Cook County but across the country, would not be able to make up the difference in SNAP."
Cook County currently has around 860,000 "food insecure" residents, which means they   don't know where their next meal is going to come from, according to Morello, and that number could increase.
To help South families dealing with hunger, Marzillo said that the nurse's office works with the Parents' Association to provide students in need with nutritious snacks, such as granola bars and fresh fruit, that they might not have access to using SNAP alone.
According to Marzillo, the nurse's office has seen a "huge increase" in student need since the recession, and the loss of additional SNAP funding that was provided is a concern for many families on the program.
"It's just so hard to see funds taken away that are truly needed," Marzillo said.