SeaWorld visit entertains, educates students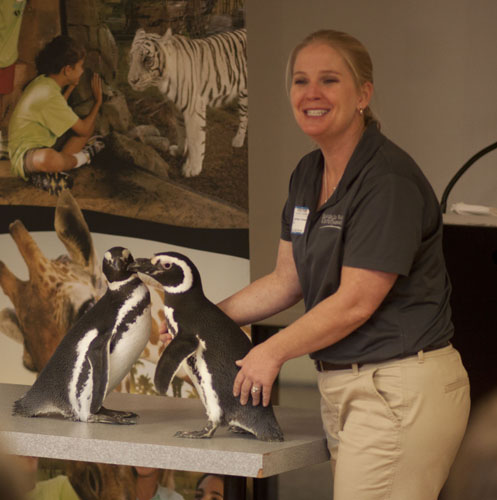 Animal Ambassadors from SeaWorld visited South for the first time to speak to freshmen biology students on Oct. 22 about conservationism and the prospect of a career working with animals.
According to Jeff Rylander, instructional supervisor of the Science Department, the SeaWorld Ambassadors came to South after presenting at the Illinois Science Teachers Association state convention. Through South's connections with the convention's coordination, the school arranged for the team to present at South too.
The four human Animal Ambassadors utilized five unlikely teaching tools: a three-banded armadillo, marmoset monkey, Amazon parrot and two Magellanic penguins.
The job market for people who wish to work with animals like those is varied but competitive, Animal Ambassador Jose Dominguez said. Students can study to be trainers, veterinarians, educators or researchers, but no matter the career, they need to start demonstrating a passion for animals by starting volunteering at a young age, Dominguez said.
"If we get one kid from any of the interactions that we've done today to pursue a career in this and go into conservation because that's their passion […] that's worth more than any pile of gold," Dominguez said.
Animal Ambassador Angie Llanas led two-foot tall penguins Pete and Penny into the SAC to gasps from the students, a response that she said is not uncommon from audiences. Llanas spent the first six of her 14 years at SeaWorld working exclusively with the penguins.
"It reminds me of how exciting [penguins] are," Llanas said. "I get the privilege of working with them all the time and traveling with them and seeing them in their environment, and I'm still inspired by them and awed by them."
In the presentation, Llanas focused on how human behavior can affect animal ecosystems, listing pollution, climate change, oil spills and overfishing as responsible for altering the homes of the Magellanic penguins in South America.
"Even if you think you're in the middle of nowhere and [your trash is] not going to affect anything, trash can make its way to the road, which ends up making its way to waterways, and that eventually makes its way to the ocean and can really have a detrimental effect on all types of animals," Llanas said.
The effects of hunting can also be devastating to animals, According to Dominguez. He spoke about working with a team to construct a prosthetic foot for a 2-year-old Asian elephant named Chhouk whose left   front foot was mangled by a poacher's snare.
Biology teacher Diane Dillon said Dominguez's elephant story highlighted the importance of the ethical treatment of animals as well as the variety of jobs that the animal field offers from Chhouk's trainers to engineers of the prosthetic foot. Dillon said that while she doubted that many students planned to enter the animal field, the final result of the presentation was to expose students to the option an potentially spark their interest.
"I think [the goal is] just to appreciate the challenges of taking care of animals," said Jeff Rylander, instructional supervisor of the Science Department. "And to also instill some passions in kids. Part of our job as teachers is to present a lot of different experiences so students can say, 'That's not me, but that's me. That's something I'd like to pursue.'"