South BPA students strive for excellence in business world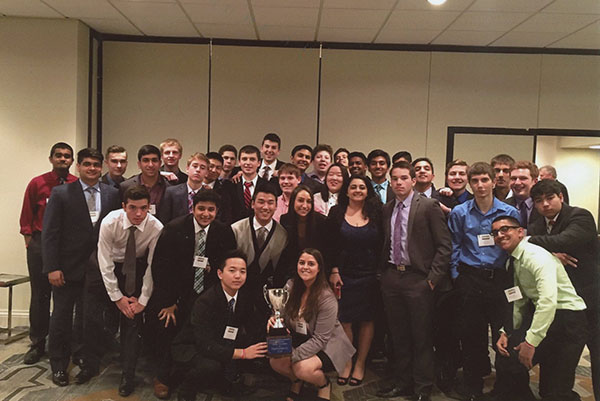 Every year, students across the nation with a strong passion for business spend time collaborating with their fellow peers in local Business Professionals of America (BPA) clubs. At South, BPA club is dedicated to providing students with business exposure while they prepare to show off their skills at annual competitions.
According to Rosie McManamon, Business Education teacher and BPA advisor, BPA was created to give students an idea of what it's like to be a professional in the working world. McManamon expressed how BPA meetings and competitions help develop leadership skills amongst club members that serve to benefit them in the future.
"It gives [students] an experience that they can take with them, really depending on what events that they choose to compete in," McManamon said. "[…] With business being the number one major in college, I thought this would be a club that kids could benefit from."
According to McManamon, South BPA club members are offered a choice of over 50 events for each of the three competitions they attend annually, which consist of Regionals, State, and Nationals. McManamon explained that each event is structured around a business-related topic where students showcase their skills.
"Depending on what the competitions are, [the topic] may be a research paper the student [must present], it may be an accounting test, it may be a graphic design that they created and have to present," Mcmanamon said. "In that regard, it's very much an individual [competition],"
According to junior BPA member Sarah Briggs, members participating in competition may be rewarded with one of the seven Torch Awards. Briggs explained the significance of gaining points in order to be recognized worthy of these medals.
"The four levels of recognition […] range from Executive, where students who qualify are described as 'a person having administrative […] authority in an organization' to the highest award level, Ambassador," Briggs explained. "As an Ambassador, you can be defined as 'a diplomatic official of the highest rank.'"
Briggs explained that the Torch Awards serve more than one evident purpose. According to Briggs, this compilation of awards serve to inspire members to achieve nothing less than excellence.
"[The awards] not only [give us] points for recognition, but [they] promote professionalism and leadership within our communities through career development and personal growth," Briggs said.
Similarly to Briggs, senior BPA member Alex Velis was one of the four South qualifiers at Nationals last year. Velis described this experience as a memorable moment in BPA.
"My best experience [with the club] was going to Nationals last year in Boston," Velis explained. "There were signs in the airport welcoming us, a bunch of stuff around the city for us to do, [including going] to the Fenway Ballpark Stadium one night. It was a big deal."
Although BPA is one of South's smaller organizations, according to Briggs, Velis says he has made many friends through the club. According to Velis, it's easy to form relationships at BPA competitions because of the wide representation of students who participate.
"It's something that expands throughout the U.S.," Velis said. "At Nationals, there were kids from 39 different states. [Every student] has a pin from their state and we trade pins with each other. You're able to establish friendships that can carry on afterwards."
In addition to the competition aspect, McManamon described the attention club members contribute to service projects. According to McManamon, she encourages this philanthropy and feels it positively impacts BPA.
"[BPA] participates in a lot of service projects, anything from raising money for Breast Cancer Awareness, to participating in the Letters for Santa [program]," McManamon said. "The Special Olympics is our State and National service project; we raise money for them."
Velis believes the appeal of BPA comes from its wide range of events for students with a lot of different interests. According to Velis, the club's preparation for the working world in the future can make it enjoyable and useful for everyone.
"It's definitely a fun club," Velis said. "And I wish there were [more members] in the club because they don't really know what they're missing. There's something for everyone. [Sometimes] we kind of think of business like accounting [only] but there is [truly an event] for everybody."