South Olympians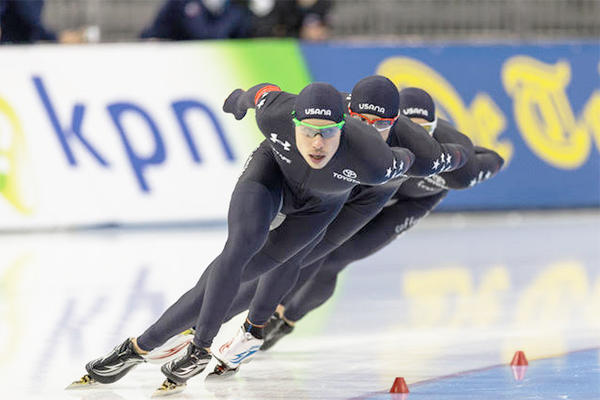 Brian Hansen 
Returning for his third Winter Olympic games, South class of 2009 alum Brian Hansen will be competing in long distance speed-skating in Pyeongchang, South Korea.
The 1,500 meter race will take place for the first time this year, and Hansen will be skating in the event's debut.
Hansen went to his first Olympic games in 2010, where he won a silver medal in the Men's Team Pursuit. In 2014, he returned to the Olympics in Sochi, and fell short of a medal, but didn't let that stop him from competing, according to Hansen.
"Sochi didn't go quite as well as hoped," Hansen said to NBC. "But two weeks later, I had the best race ever. A lot of international skaters said, 'Oh, you should've done that two weeks earlier!' and I said, 'I know.'"
In an interview with NBC5 Chicago, Hansen said he's going into the Olympics this year with a different approach.
"My approach the last two years is trying to come at the sport with less pressure," Hansen said to NBC5. "Keeping my workouts interesting and things like that, even if that means it might make it a little less effective of a workout sometimes, but you gain something in return."
Lana Gehring 
After graduating from South in 2009, Lana Gehring competed in the 2010 Winter Olympics for short track speed-skating. Gehring did not compete in the 2014 games, but is returning to compete in the 2018 games.
In 2010, Gehring competed in the 300 meter short track relay, where she won a bronze medal. After the Vancouver games, Gehring took a break from skating, but later returned and became the first U.S. female athlete to qualify for the Pyeongchang games, according to team USA.
"I couldn't be more pleased with my performance," Gehring said to the Glenview Patch. "It's Olympic Trials, anything can happen … It's always a surprise, and you are really grateful and thankful for the performances you do have."
Gehring told Brandon Penny, in an article found on the Team USA website, that going into the 2018 olympics she is more experienced and in better shape overall to compete.
"I feel like my overall fitness level is a lot stronger – I was so young, I was only 19," Gehring said to Penny. "Coming in here, I'm a little more confident in how I skate. But I'm just happy that shined through today for sure."