Paraprofessional creates welcoming environment at South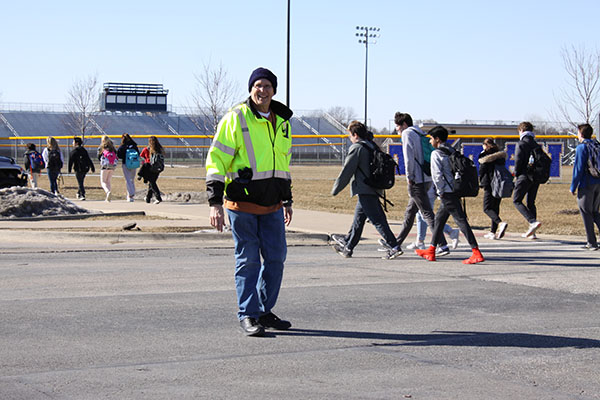 Waving directions for incoming traffic, scanning students back into the school, and keeping them safe in the halls are all integral parts of Frank Stankowicz's job at South as a paraprofessional. However, the most important part of Stankowicz's job is his interaction with the GBS community. For Stankowicz, friendly conversation is imperative, and a smile or a wave to brighten up these student's days is always a necessity.
Before Stankowicz was hired as a paraprofessional, he worked as the school's police officer, which served as a positive first impression to the school.
"When I was a police officer my goals and objectives for my shift [were] to treat people in a caring, respectful, fair, and honest manner, and I tried to show this through my actions and to ask others to do the same," Stankowicz said. "I [made sure] that what I did had a positive impact on other people."
Even today, values that Stankowicz holds dear are reflected in his days at South, according to his fellow paraprofessional, Donald Lawrey.
"Frank is the same person every day that you see him," Lawrey said. "Nothing changes [about him], because what you see is what you get. He's simplistic, and he doesn't complicate situations, and he's a [stickler] for someone who does the right thing."
Paraprofessional Donna Sawicki, a co-worker of Stankowicz, says he is helpful in bringing about positivity and even ease to their work days. According to Sawicki, Stankowicz's addition to the staff brought smiles all around.
"I met Frank when he was first here as a police officer," Sawicki said. "And when he was leaving, he said to me, 'I will be back as a paraprofessional because I love this building.' After he retired, he came back and made a big influence on my life, and overall, made [my job] easier."
Now, Stankowicz takes on various tasks all around the school like working in the Dean's Department, both inside and outside the school. Every morning, Stankowicz heads outside  the school to direct student traffic alongside other staff members, whether it be pouring, snowing, or even subzero temperatures.
"You can just tell by [the students'] general attitudes [that they appreciate the work we do]," Stankowicz said. "They say hi, high five us, and wave from their cars. On Halloween, a girl even dressed up as me. She had the vest on, the glasses, so you can really just tell by the kids' attitudes [that they really do appreciate us]."
In addition, Stankowicz enjoys creating special bonds with students and starting conversations with them on a day-to-day basis. According to sophomore Xavier Miller, he has grown to enjoy Stankowicz's company as a staff member at the school.
"He brightens my day, because it's like, someone actually cares how your day has been," Miller said. "I feel like that's really powerful, especially for students in high school, because if you're having a really crappy day [at school], talking to someone that actually seems like they care is really cool."
Last year, senior Chloe Nourbash invited Stankowicz to a gymnastics meet, which he attended in support even though she wasn't competing, said Nourbash. Nourbash finds Stankowicz's influence to have a great impact on her life at school, even referring to him as "Stank," a playful nickname she gave Stankowicz.
"I [try to be] more like him," Nourbash said. "If I ever have to make a decision, there's a couple of people I think of, and he's one of them. [I think], 'what would Stank do?' The one thing I learned from [him] is that if you just listen to people, it makes them feel better about what they're saying."
Throughout his years working at the school, Stankowicz has met many different students, and according to him, this factor is what makes his job so amazing.
"There are so many [different] students here at South," Stankowicz said. "There are athletes, there are quiet kids, vocal kids, there are so many personalities [at South], and I like reaching out and meeting them all."